Weeks of 10/14/13 - 10/25/13

Since we are still here in Emeryville, weeks past when we wanted to leave, we thought we'd blog a bit about why preparing a boat for an extended cruise takes so long.
We want to make sure our vessel will be able to withstand the rigors of the ocean without falling apart immediately, and we want to sail our boat safely. For the first part, this means having things such as good sails, good systems for raising and lowering the sails, solid hardware on your deck for hanging on while underway, good rigging, and a good steering system (this is by no means a comprehensive list J). For the second part, this involves items such as a dependable navigation system, a way to detect obstructions in case visibility is poor, emergency beacons, fire extinguishers, radio communication, etc. In this day and age, many of these items require electricity which means some type of power generation is also needed. Anyway, we our working our way through a list of items we need to install to make certain our boat will have a good chance of making it through a year on the ocean! At some point we will also be installing things to make our trip more comfortable, such as a refrigerator unit, a cockpit shower, lights in our cabin, and a ham radio, but those items can wait until we reach a warmer climate.
This last week we made a lot of progress; this included installing a new main sail, a mainsheet traveler, a new jib roller furling sail, a new jib rail, solar panels (not connected yet though – will likely have to wait for MX), patching up the last piece of deck, varnishing and re-installing the hatches for our cockpit lockers, varnishing and re-installing the wooden rub rails on the starboard side of our boat (a project we started months ago), connecting the chart-plotter and radar, re-installing out running lights, installing pull-out bins in the kitchen for more storage, and continuing to organize storage spaces.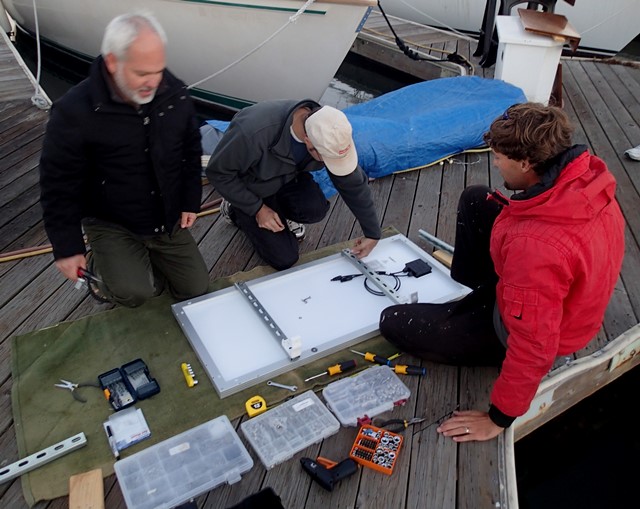 Jeff, David, and Chris prepping the solar panels for installing on our boat.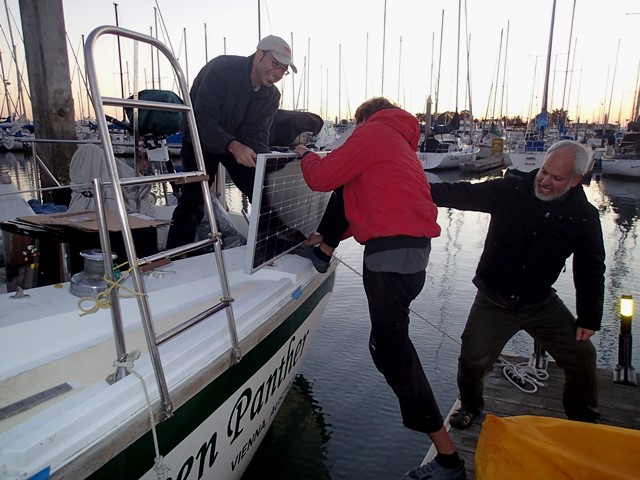 Installing the solar panels.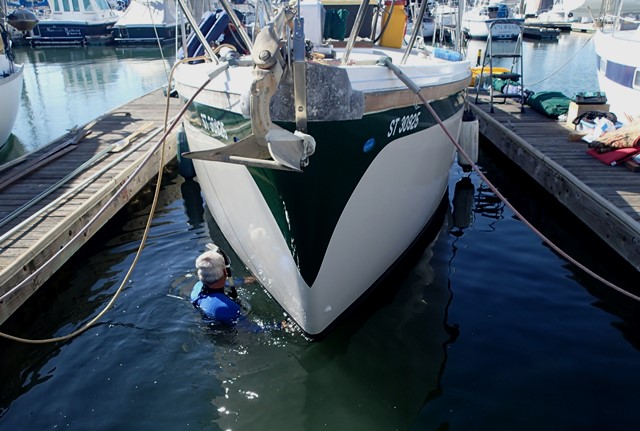 Jeff cleaning the bottom of our boat. Have I mentioned we have really amazing friends?
It wasn't all work though. Last week we managed to take a night off for a very nice date in San Francisco, courtesy of Chris's amazing co-workers. As part of a wedding gift, they gave us a certificate for dinner at the House of Prime Rib, one of the fanciest restaurants either of us has ever been to. It was amazing food (sorry my vegetarian friends!) and a really fun experience.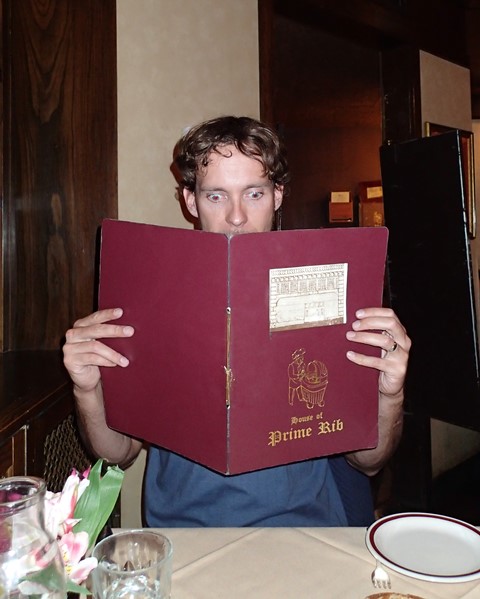 Chris examining the menu (the only thing on the menu is prime rib). :)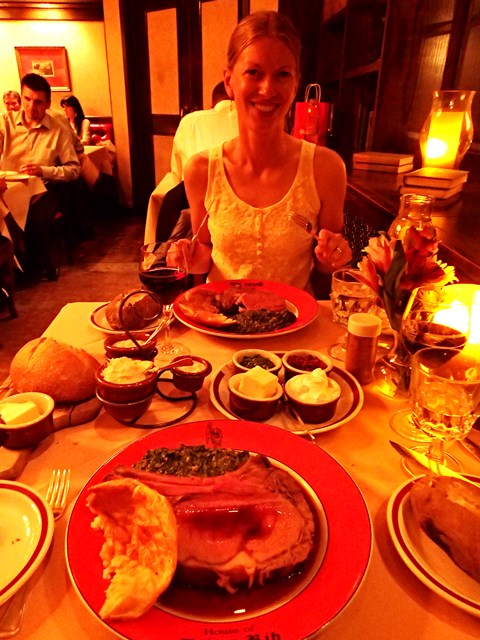 Check out the massive hunks of meat!
So where are we at now? We had a rough time selling Chris's car, but it finally sold yesterday. Now we have no more belongings tying us down to this location. Most of our boat preparations are finished. All that is left is to fix an engine hose, fix a loose connection in our masthead lights, fill our water tank, put away the tools, sealant, screws, and electrical wiring littering our main cabin, and try to configure our windvane (although we may just work on this while underway). We won't make it to San Diego in time to leave with the Baja Ha Ha boat rally, but we should have a good time charting our own course down the Baja coast!
Hits: 3674