Week of 11/08/13 - 11/15/13

About 2:30pm Friday afternoon (11/8), we arrived in Ensenada, our first stop in Mexico.
Ensenada is the first port city boaters reach in Mexico and is where you are supposed to stop and clear in with customs before continuing down the coast. We thought we could clear in right away, however it turns out the Port Captain's office closes at 2pm on Friday and we arrived at 2:30pm. Thus, we had no choice but to hang out in Ensenada until Monday when the office would be open again.
At first we were a bit disappointed at being further delayed on our journey south, however it ended up being a wonderfully relaxing weekend and we had a great time exploring the town. We ate fish tacos almost every night (delicious and cheap!), stocked up on groceries, visited the fish market, found an excellent panaderia (bakery), and visited a couple cultural sites. We also spent a lot of time just relaxing in our cockpit under our new bimini top (which Christian was able to fix) and reading up on anchorages in Mexico. The weather was warm and for the first time, it felt like we were really on a vacation. We also ran into several familiar faces. On Saturday, we ran into our friends from Pelagia again, who were staying at the neighboring marina. On Sunday, our old boat neighbors from Emery Cove (who we also saw in San Diego), Landover and Cetus, showed up at our marina. We also met the crew aboard another sailing vessel docked near us, Meridian, who happened to originate from the Emery Cove marina as well. That weekend there were four sailboats from Emery Cove all staying at the same place! It was a fun coincidence. On Monday morning, we were all at customs together and got to know each other a bit better as it took a couple hours to clear through. Luckily we all got our papers so we could continue south.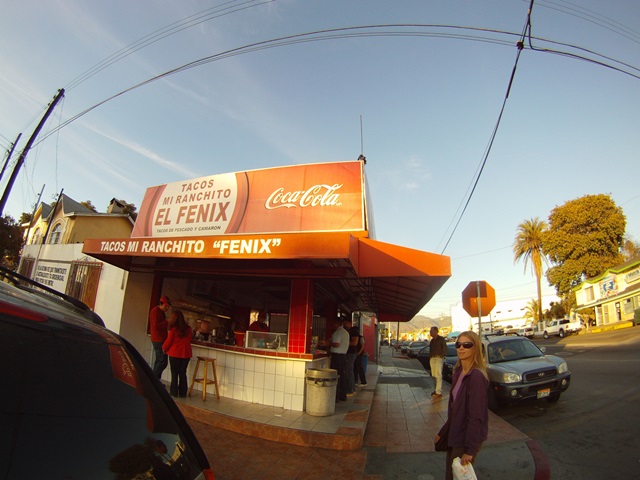 The best fish taco stand we ate at in Ensenada.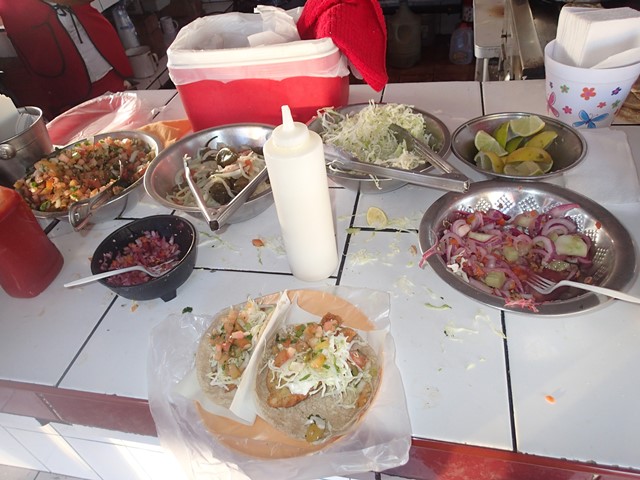 Mmm.. fish tacos with all the fixings.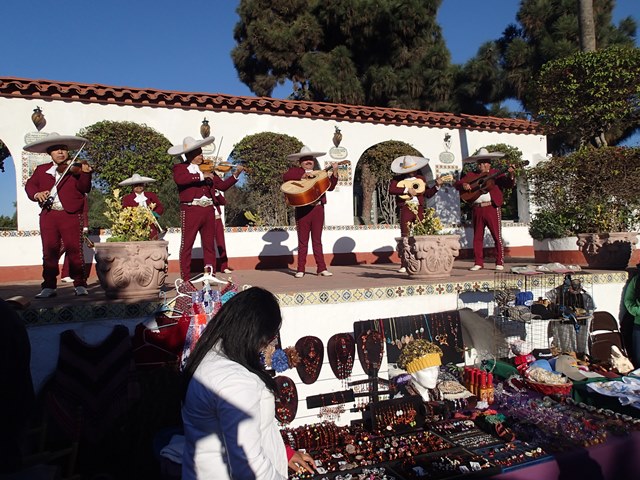 We visited the cultural center where they had a mariachi band playing and lots of stalls set up to sell tourists every souvenir they could desire.The band was really good.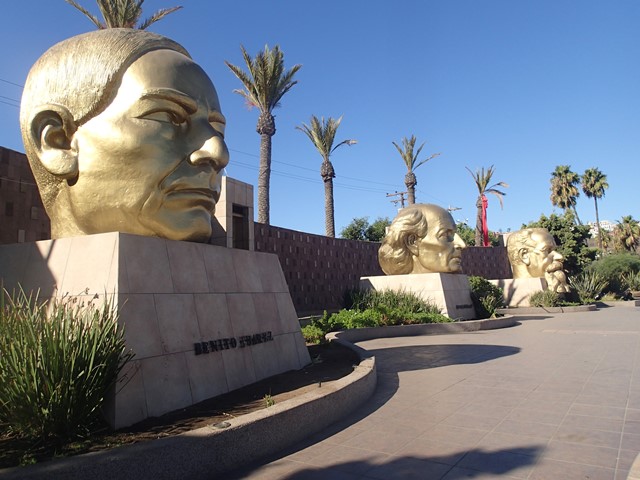 The plaza de tres cabezas (plaza of three heads).
By Monday afternoon we had topped off our water and fuel, and were ready to leave. Meridian left just after us, and Cetus and Landover had plans to leave the next day. That night the wind picked up quite a bit and although we were making some great time (6 to 7+ nm/h!) we had some rough seas to deal with and we were both a bit queasy. Our time in Ensenada had de-acclimated us from the motion of the ocean. By Tuesday morning the wind and seas had died down and although we were only traveling about 3-4 nm/h, we were feeling much better! Tuesday evening we decided to anchor overnight in San Quintin since neither of us slept much Monday night. When we awoke Wednesday morning, we were greeted by a humpback whale spouting in our sheltered cove. We also saw Cetus and Landover anchored nearby. We think they must have come in during the night or early that morning. It's nice to know we aren't alone out here!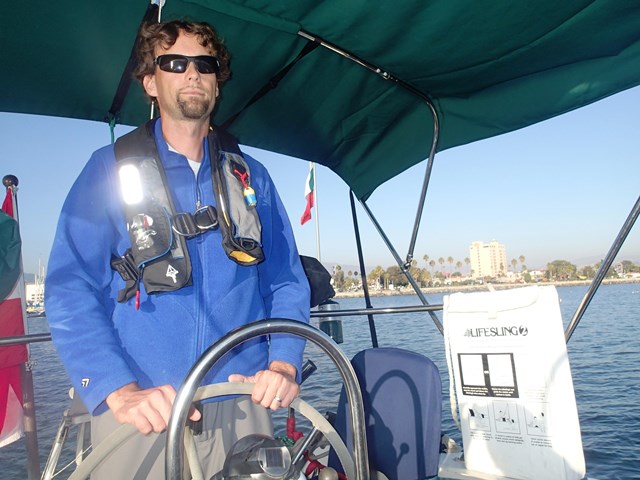 Leaving Ensenada.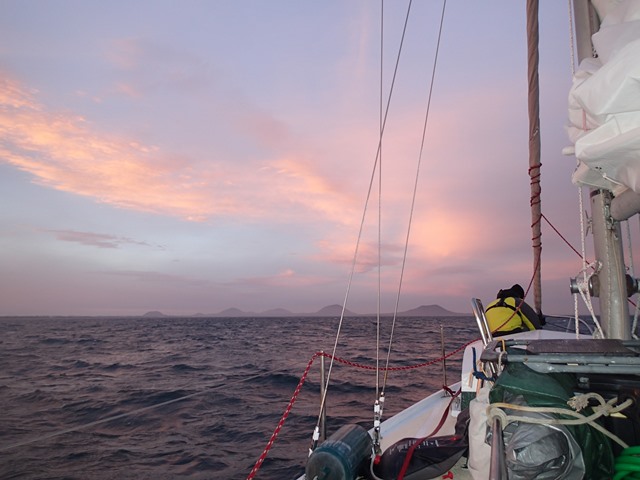 Anchoring in San Quintin. It was a lovely sunset.
We left San Quintin at 9am Wednesday morning and sailed/motor sailed another 180 miles to Turtle Bay, which is where we arrived this afternoon (Friday, 11/15). Our last bit of sailing this morning was a bit rough since the winds shifted from the northwest to the southwest. This meant the swell was still coming from the northwest, but wind waves were coming from the south, which made for messy and confused seas and slow progress (1 – 2 nm/h) for us. We're going to hunker down here until the south winds shift back to the north. We're hoping to continue on our way early Sunday morning. We still have 430 nm to Cabo San Lucas!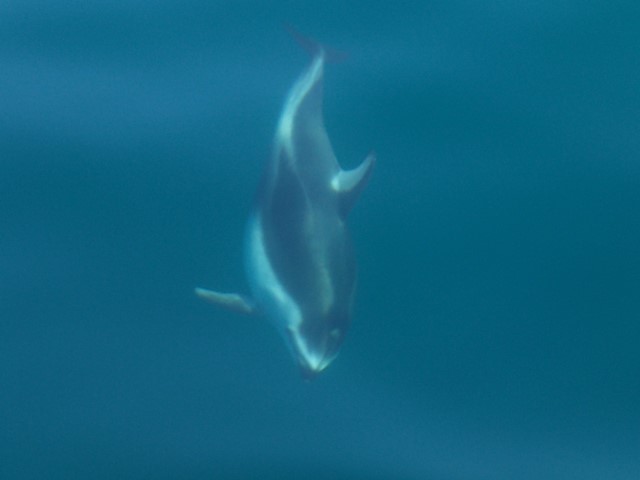 Dolphin swimming under our boat. We typically see at least a couple pods of dolphins every day, but they are hard to get a good photo of!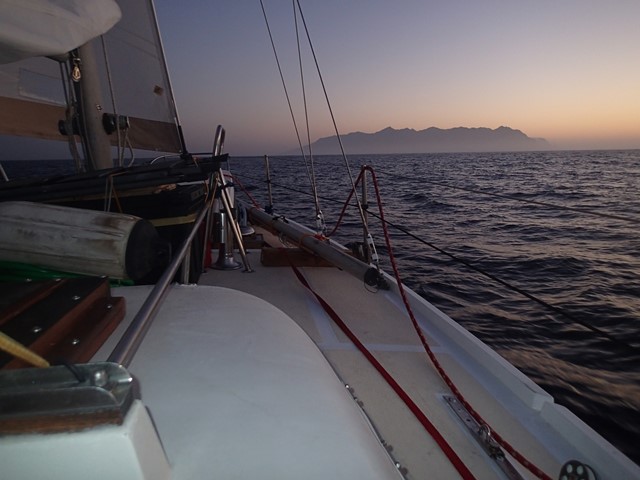 Approaching Isla Cedros Thursday evening.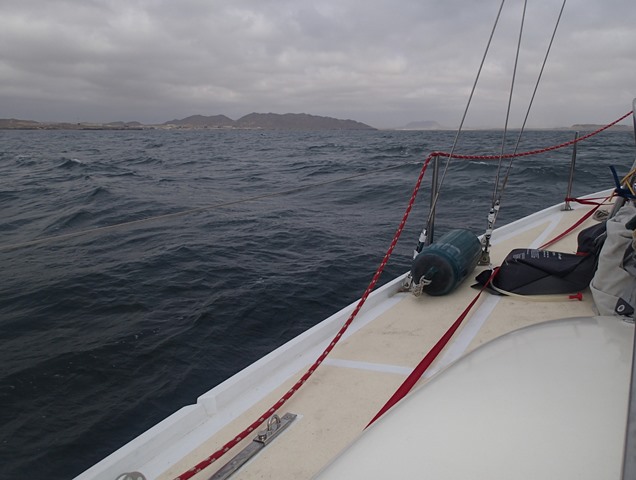 Entering Turtle Bay this afternoon.
Hits: 6834
RSS module greenpanther.org