Time period: Tuesday, 11/19/13 to Saturday, 11/23/13

We arrived in Bahia Santa Maria (Santa Maria Bay) Tuesday night.
Bahia Santa Maria is a small bay just north of Bahia Magdalena. There is a small fishing village against a rocky hillside at the north end of the bay, where a small river enters. The estuarine portion of the river is fairly shallow and lined by mangroves. There is a large sand spit bordering the east and south ends of the bay, which is all that separates Bahia Santa Maria from Bahia Magdalena. One reason we wanted to stop in Bahia Santa Maria is that attached to a wooden post in our boat is a large sand dollar inscribed with the words "Bahia Santa Maria." The sand dollar is a different species than the ones we find in Oregon or California, having several symmetrical holes in the shell. It is neat to think that at some point in our boat's history it had already sailed here and was now returning.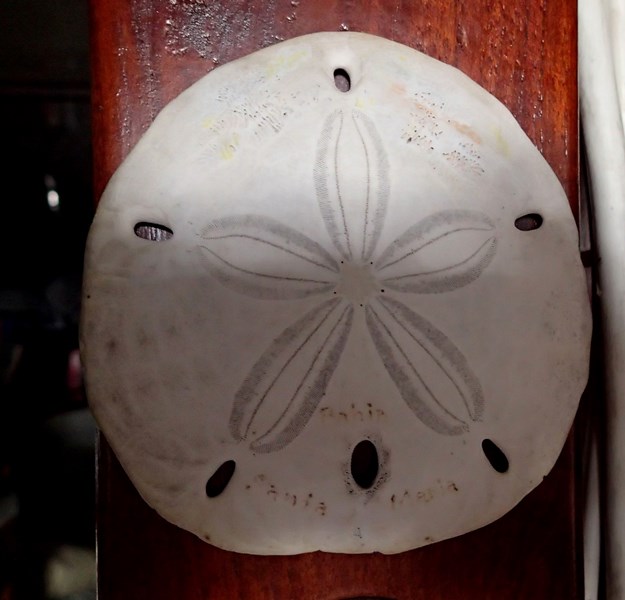 The sand dollar attached to a wooden post on our boat.
Wednesday morning we awoke to find two other sailboats in the bay, Mystic Island and our friends, Eleutheria. Eleutheria, who had left an hour or so before us from Turtle Bay, arrived on Tuesday afternoon. They are a bit faster than we are. Mystic Island was also a familiar boat, having overlapped in Ensenada and Turtle Bay with us.
Since we had not had a proper shower since Ensenada (we had a washcloth bath in Turtle Bay and attempted to wash our hair in the sink, but it wasn't quite the same as a real shower), we decided it was time to try out the solar showers we'd been lugging since San Francisco. The water wasn't super warm since it was still morning, but it was relatively warm outside and the shower worked fairly well. It felt great to be clean again. Shortly after our showers, a fishing panga (an open fiberglass boat used by fishermen in Mexico) pulled alongside our boat and asked if we would like to trade for some lobster. We agreed, and asked what they would like. They were looking for batteries and candy for their kids. We did not have candy, but we did have batteries. For 4 AA and 2 D batteries, we received three large spiny lobsters. Not a bad trade! Eleutheria soon called and told us they already had a large pot of water boiling for the lobster they had traded for, and asked if we would like to use it to cook our lobster as well. We readily agreed and soon were enjoying a lunch of fresh cooked lobster, toast, tuna salad and cucumbers aboard Eleutheria. After lunch we all decided to go for an expedition to shore to explore the mangroves and sand spit. It was a bit of an adventure attempting to cross the river bar during the outgoing tide with four of us weighing down an inflatable dinghy with a 4 hp motor; the tide working against the incoming swell proved too much for our vessel and soon overpowered us. We ended up having to abandon ship and drag the boat across the bar (luckily it was only about 2-3 ft deep
). A little ways up the river we all piled back in the dinghy and continued our explorations of the mangroves. On our way back, we beached the dinghy on the sand spit for more exploration. While walking along the beach, we found several large sand dollars, just like the one on our boat!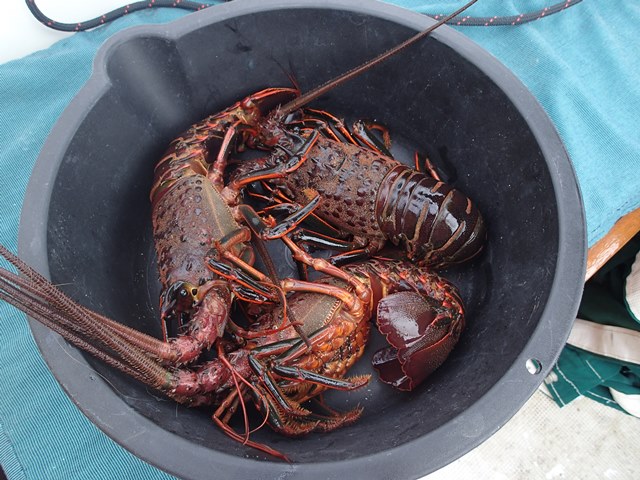 The lobster we traded 6 batteries for!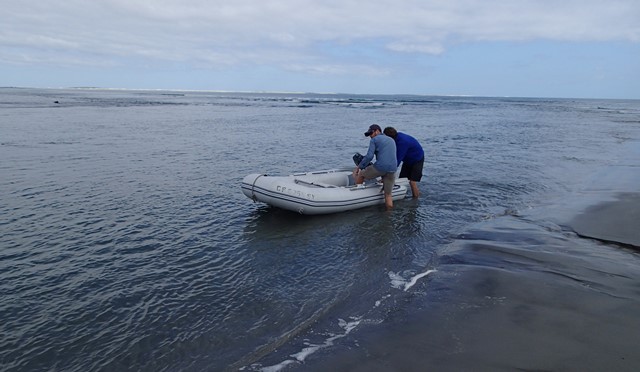 Lewis and Chris getting back in the dinghy to see if they can successfully motor against the outgoing river tide.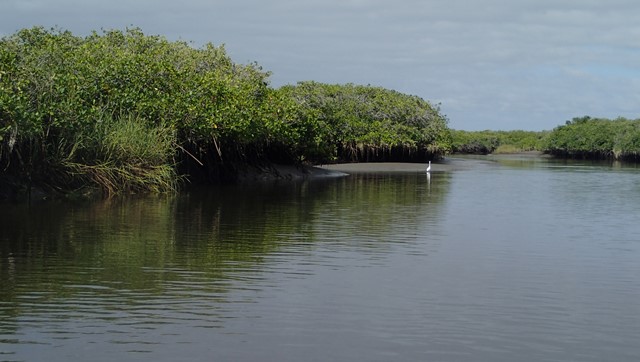 Mangroves lining the estuary.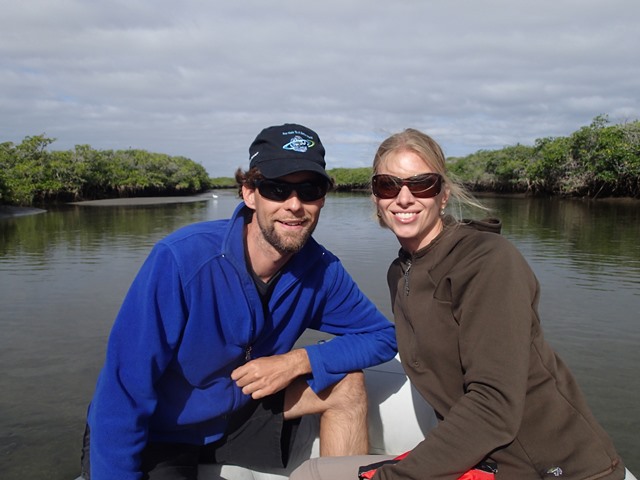 Enjoying our boat ride up the estuary.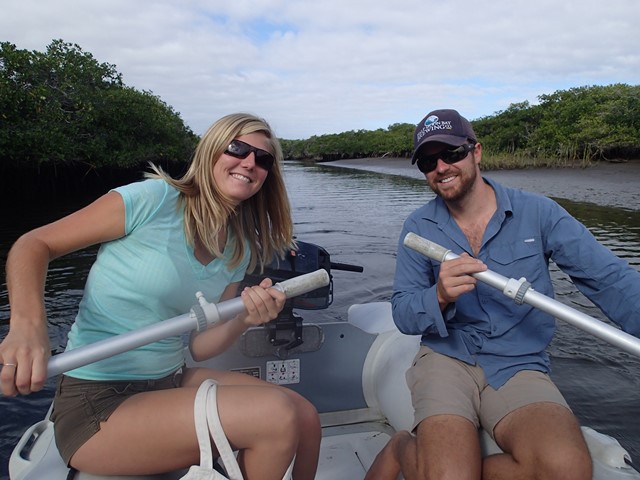 Alyssa and Lewis, our awesome dinghy chauffeurs!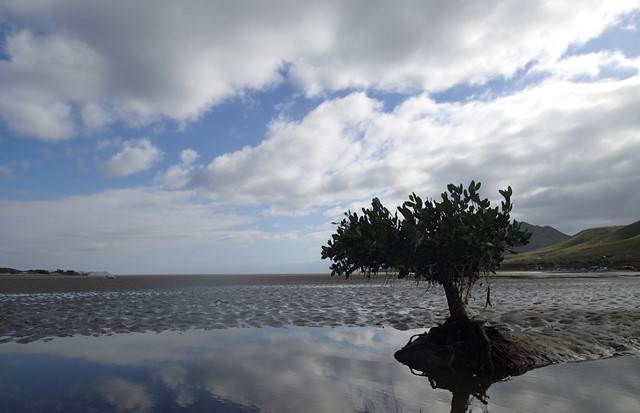 A lonely mangrove on the sand with it's own salty puddle.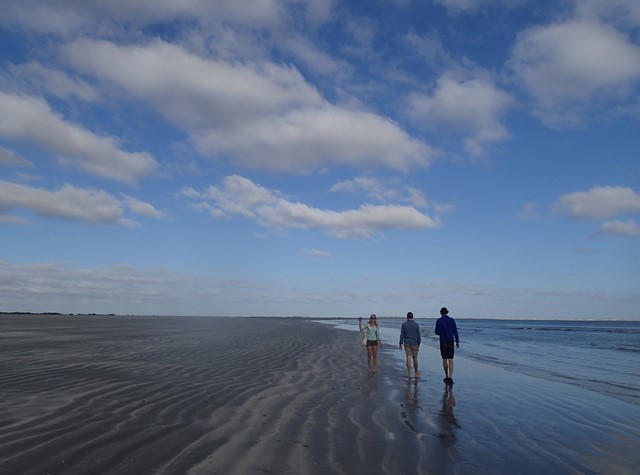 Alyssa finding a sand dollar while we walk along the sand spit.
After our afternoon adventure, we returned to our boats and met up again a couple hours later for another amazing dinner of lobster, more fresh tuna that Lewis had caught, and some fresh baked bread I made. I think I could get used to this cruising lifestyle…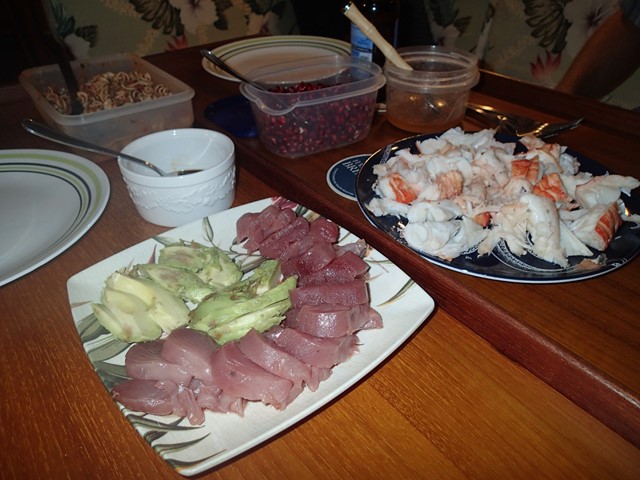 Our wonderful dinner of lobster and yellowfin sashimi.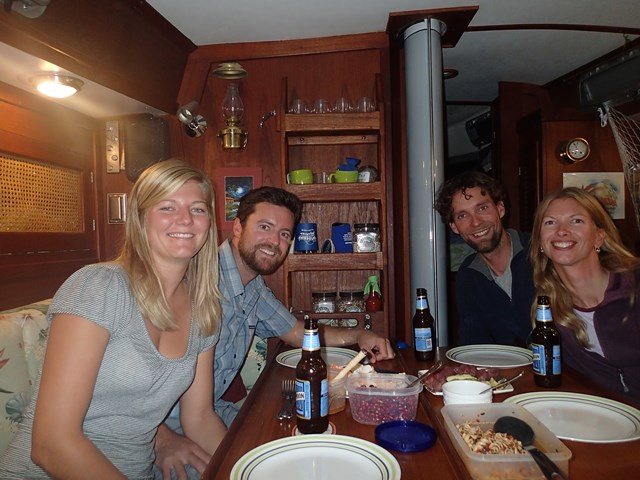 Although we were thoroughly enjoying our time in Bahia Santa Maria, the next day (Thursday already!) we needed to hoist anchor and continue on our way. My parents were flying into Cabo San Lucas Saturday night to join us for Thanksgiving week, and we needed to make sure we were there! Thursday we had some lovely light winds out of the north and we were able to fly our spinnaker (a large colorful sail that is basically like a kite) all afternoon for a nice, relaxing sail. As we approached the mouth of Bahia Magdalena, about 20 miles south of Bahia Santa Maria, we saw a couple whales spouting, and a little while later, saw a whale breach completely out of the water! It was about a mile from our boat, but was still really impressive, especially the massive splash when it came back down! From January to March, Bahia Magdalena is an important calving ground for gray whales. We knew we were too early for the main event, but the teaser show convinced us perhaps we should anchor overnight in Bahia Magdalena, just in case there were more whales inside, getting an early start on things. Alas, we did not see any whales inside Bahia Magdalena, and early Friday morning, we continued on our way down the coast. Incidentally, it has also been warming up nicely as we get further south, and we no longer need to wear our myriad layers of long underwear, fleece and foul weather gear, which is really great. The water temperature has also increased to over 70 degrees F! It was a fairly easy sail the rest of the way to Cabo. We had a nice west wind all day Friday, allowing us to sail at a speed of 4-5 knots. Saturday the wind died down and we motored the rest of the way, arriving about 6pm Saturday evening.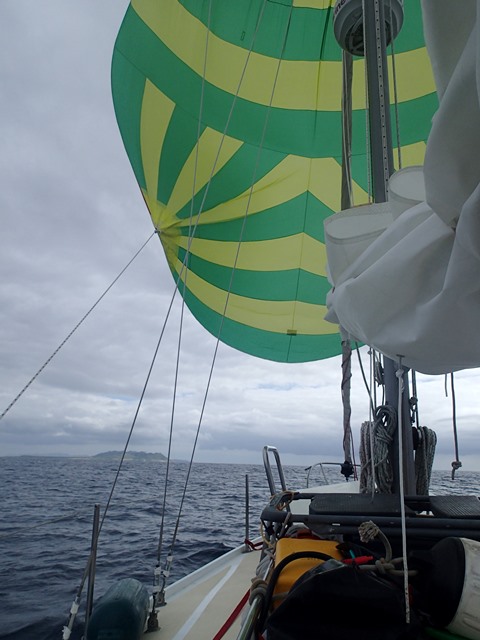 Flying our spinnaker as we head toward Bahia Magdalena.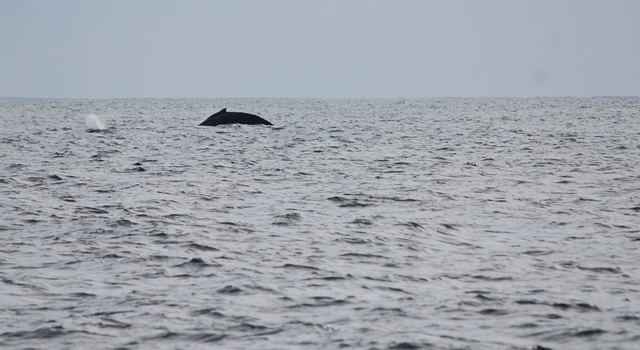 Gray whales outside of Bahia Magdalena. I wasn't quick enough to get the breaching whale...
Hits: 5565
RSS module greenpanther.org