Time period: Sunday, 12/01/13 - Thursday, 12/05/13

Last Sunday we left Cabo San Lucas for what we thought would be a 4 – 5 day passage to La Paz. However, we forgot to factor in that the weather doesn't always cooperate with our boating plans.
We left later than we wanted on Sunday due to a malfunctioning alarm clock; as a result we were unable to make it to our first anchorage, about 45 miles away, before dark. Because the anchorage is close to shore, we didn't want to anchor at night so we chose to only sail 20 miles and stay overnight in San Jose del Cabo. As we were walking to the marina office (no anchorages at San Jose) we ran into Mala and Dean again! They had come down for the day to check out the marina. We enjoyed an afternoon cerveza together before heading back to our boat. Early the next morning (Monday), we left for the next anchorage, Los Frailes. The first half of our passage was easy, but as soon as we rounded the tip of the Baja peninsula, we were in steep wind waves and about 20+ knot winds. We knew there would be north winds, but had hoped they wouldn't reach to the tip of the peninsula. We were wrong. After bashing through the waves for an hour and averaging about 1.5 knots, we decided to return to San Jose del Cabo instead of wasting our fuel trying to get to Los Frailes. As we motored back into our original slip, we saw a couple new sailboats had arrived while we were away. One of the sailboats, Sound Discovery, was from Juneau, Alaska and skippered by Cliff and Giselle. They had sailed their Cal 34 all the way down the west coast through some terrible weather, braving several knock-downs in the process (a knock down is when your boat is knocked all the way over on its side, so the mast is parallel to the water – not something we ever want to experience if we can help it!). Despite all this, they were more enthusiastic than ever to continue their journey and thoroughly enjoying their time in Mexico. We went to dinner together at a nearby open air restaurant called "El Vaca Loca (The Crazy Cow)." They made some great beef tacos and fajitas with lots of fresh salsas and we had a fun time exchanging stories.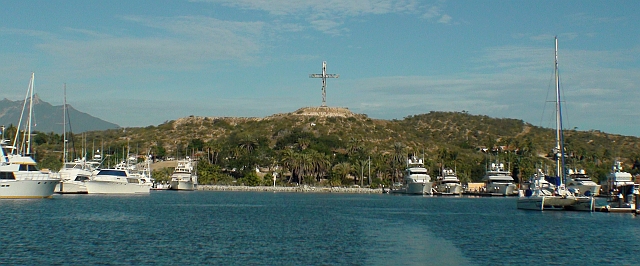 The marina at San Jose del Cabo. All of the marinas in both the Cabo San Lucas and San Jose del Cabo area cater primarily to megayachts. We didn't really fit in. :)
Tuesday morning we tried again to make it to Los Frailes, and this time we were successful. The waves had completely died down and the wind had shifted to the west, so we could even sail most of the way. On this trip we had a couple firsts as well. We started catching our own fish and we used our dinghy for the first time. Tuesday afternoon, we threw out the hand line off our stern and a couple hours later, Chris pulled in his first dinner-sized fish, a Pacific Sierra. It was a beautiful barracuda-shaped silvery fish with an electric blue back and bright yellow spots on the side. And very large teeth! After filleting it, I had to check out the stomach contents and found it had recently eaten a small pelagic fish, perhaps an anchovy or sardine. We marinated the fish (the Sierra, not the anchovy) in lime juice and chili powder for a couple hours and then lightly grilled it. It was delicious! And a nice change from eating canned chicken. Shortly before arriving at Los Frailes in the evening, Chris caught another fish as well, this time a bonito! We filleted it and put it on ice for the next day.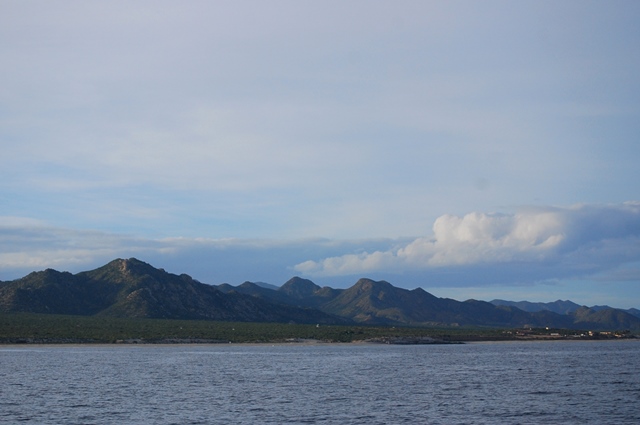 Sailing around the cape to Los Frailes. The shoreline is beautiful!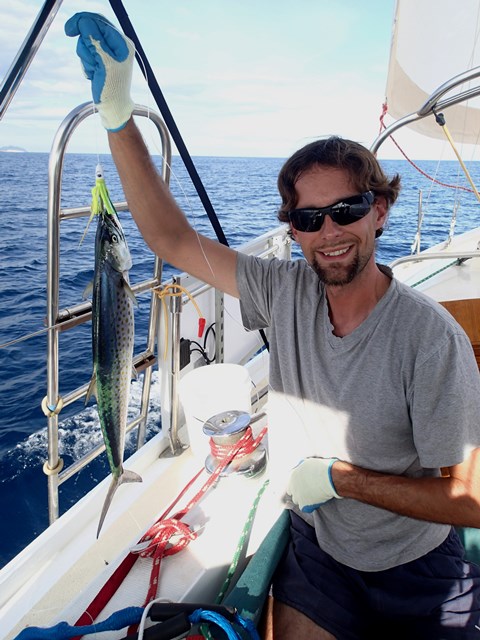 Chris holding up the Pacific Sierra he caught. The picture doesn't do justice to the beautiful colors of the fish.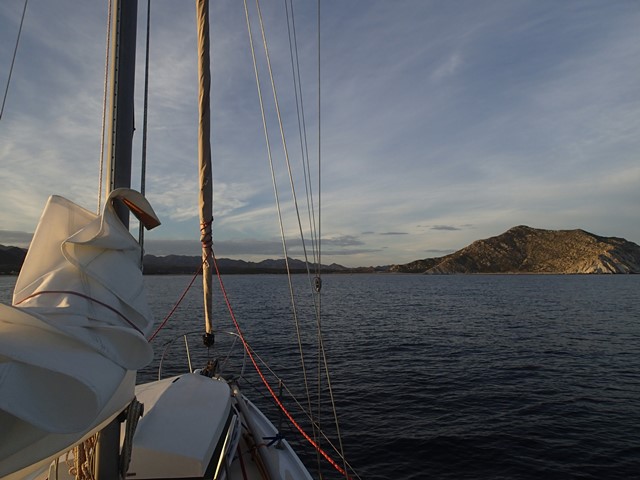 Approaching our anchorage at Los Frailes Tuesday evening.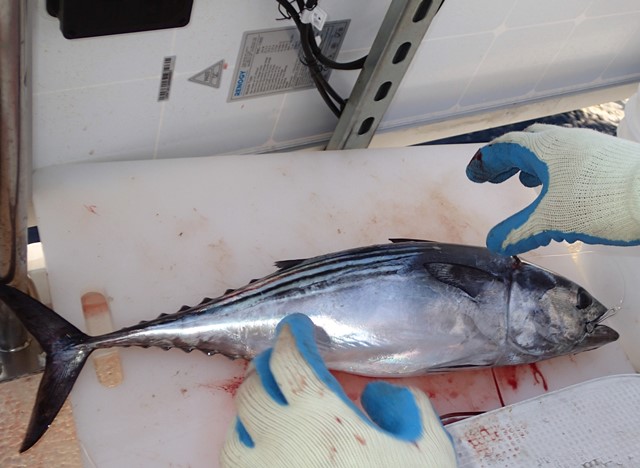 The bonito Chris brought in just before we anchored.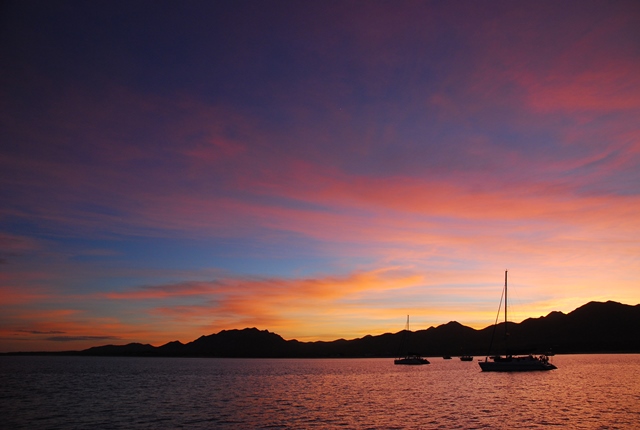 We enjoyed a spectacular sunset our first night in Los Frailes.
Wednesday the swell was predicted to pick up again, so we stayed at Los Frailes for the day. It is a beautiful anchorage in the lee of a large rock. A couple miles further north, on the other side of the rock is Cabo Pulmo National Park, which houses Arrecife Pulmo (Pulmo Reef). This is the northernmost coral reef in the eastern Pacific and even John Steinbeck stopped here and described it in his book "The Sea of Cortez." Needless to say, we really wanted to go snorkeling there! Because the wind was again from the north, we could not anchor on the other end of the rock, in the bay near the reef. Instead, we lowered our dinghy into the water for the first time during our trip, rowed to shore, and spent Wednesday morning trying to find a hiking path to take us to the other side. After a couple hours of following false (or overgrown) trails and getting scratched up by the heavy, thistle-laden shrubs, we gave up and just enjoyed snorkeling and swimming on our side of the rock. The water was warm and clear, and we saw several fish swimming near the rocks, including seargant majors, puffers, sheephead, pompano, and parrotfish. It wasn't a coral reef, but still the best snorkeling of our trip so far! In the evening we prepared our bonito with olive oil, garlic, and oregano and enjoyed another delicious dinner of grilled fish.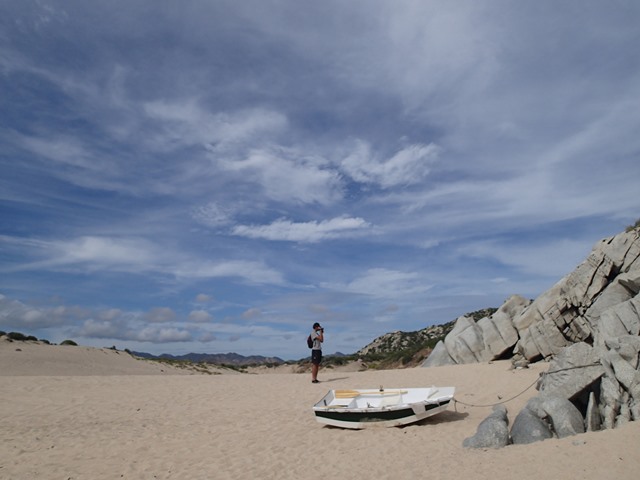 Our dinghy tied to a rock on shore as we prepare to explore the area.
There were lots of what looked like monarch butterflies flying around.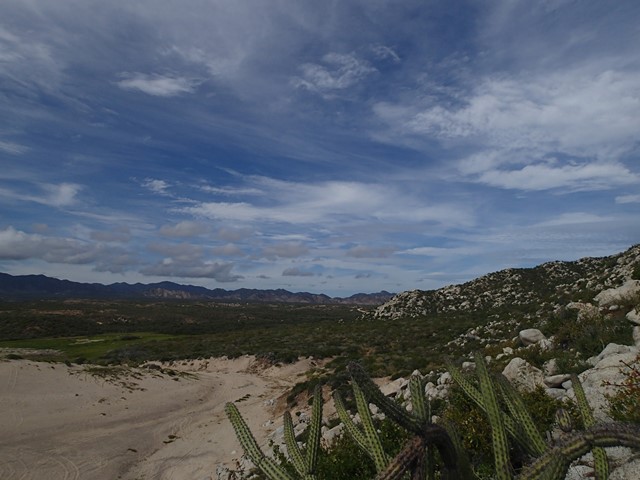 The desert terrain. Beautiful, but literally a pain to try and walk through. :)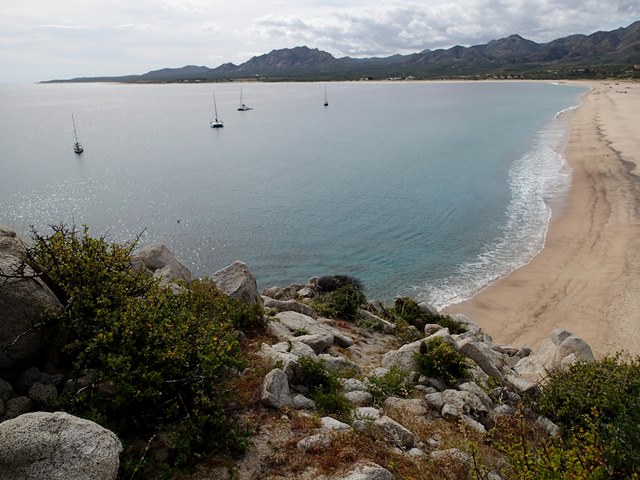 The view of our anchorage from up high.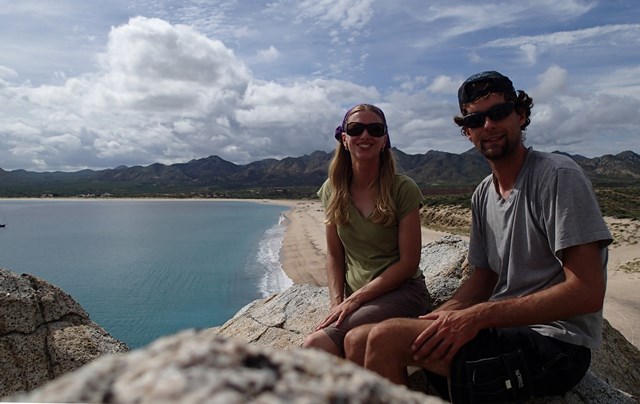 Cheesy self-portrait.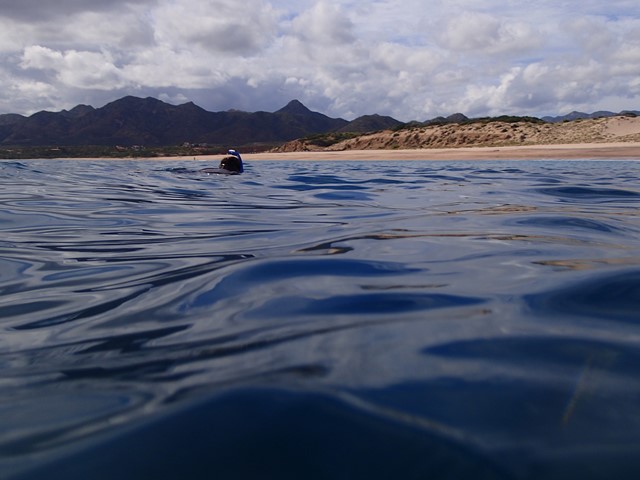 Snorkeling in the lovely warm, aquamarine water.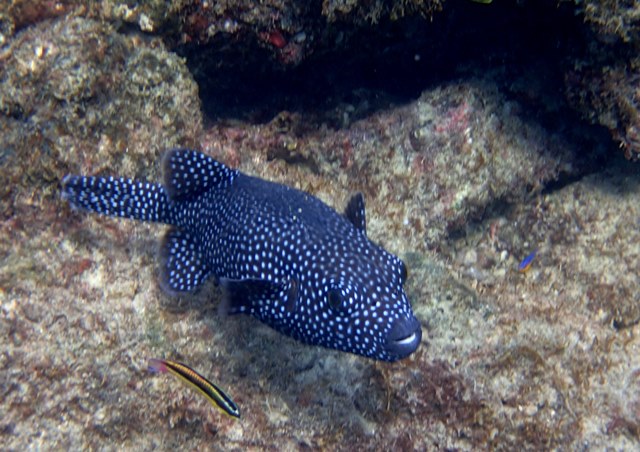 Chris dove down and got this great shot of a guineafowl puffer and a juvenile Cortez rainbow wrasse.
We left Los Frailes early Thursday morning to take advantage of a brief weather window which allowed us to make it another 45 miles north to our next anchorage, Ensenada de Los Muertos/Suenos. We were sad to leave Los Frailes without getting to explore the Pulmo Reef, but will stop here again in a month or so before we head to Mazatlan, and try again!
Hits: 6283
RSS module greenpanther.org