Here you find my book (and Alena's book in the future), supporting information, and updates. This is also the place to leave
your feedback, any suggestions, ideas etc. are welcome. We hope you enjoythe read.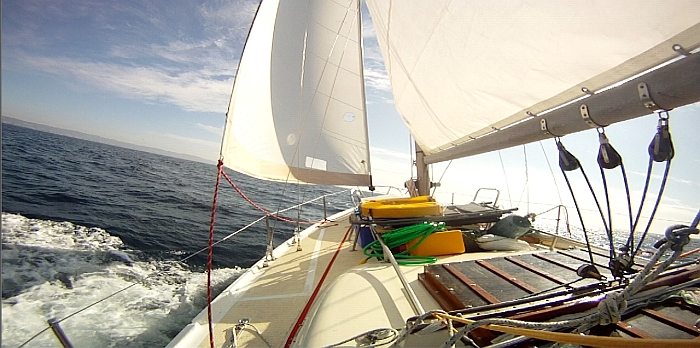 Fair winds!" - Chris and Alena
"Sailing the South Pacific - a how to guide" by Chris (available August 1st 2017)

Did you ever dream about setting sail on your own yacht and exploring the most beautiful spots on our blue planet? If you are toying with the idea of taking a temporary break from the daily grind or planning to run away to paradise forever, this inspirational manual will assist you along the way. The author shares his experience of crossing the Pacific Ocean in an inexpensive, good old boat and provides solid advice for each step along the way. Starting with how to escape the rat race and excite your loved ones to join you, to the search for the perfect boat and how to prepare and outfit her in the digital age. Follow along as useful cruising skills, safety at sea, and dealing with foul weather are explained. Read about the pros and cons of living aboard a cruising yacht, how to stay up to date on weather, and route planning. Throughout the narrative the author combines his knowledge with the advice of other cruisers, expert views, and scientific results in a laid back, conversational style. Big adventures need a fair bit of planning and this book comes with a wealth of advice on how to go about it, while also providing the necessary inspiration. Most importantly, the author emphasizes that strong determination and commitment rather than a high income are the recipe to cast off the lines tying you to land and follow your dreams.

link to kindle version on amazon: coming soon
Book by Alena: coming soon
Description: coming soon
Hits: 2952