A beginners guide for short and long distance cruising - 2nd Edition

It's the end of 2018 and the 2nd edition of "All I wish I knew before setting sail" just got released. Learn more.
The 2nd Edition of "All I wish I knew before setting sail: A beginners guide for short and long distance cruising" underwent an additional round of detailed copy editing, including reviewing for readability and flow, and reworking sentences and paragraphs for clarity, as well as corrections of spelling, grammar and punctuation. Some chapters including "The electrical system simplified", "Self steering - autopilots, wind vanes, and alternatives", and "Engine spares and maintenance" were partially re-written to improve flow and readability.
The section "Nautical terms" in the appendix has been expanded, now providing an explanation for all nautical terminology used throughout the book. In addition, several links where updated.
The following versions of Edition 2 are now available:


Kindle: http://a.co/d/5GRi3k; File Size: 35669 KB; Length: 340 pages


Black & White paperback: http://a.co/d/ghevjWm; 330 pages; Publisher: CreateSpace Independent Publishing Platform; 2 edition (November 12, 2018); ISBN-10: 1729735169 ISBN-13: 978-1729735169


Color paperback: IngramSpark; ISBN:978-1-5032-5005-5: 330 pages
As a service to everybody who purchased the black and white paperback version, below I have provided a collection of all color images containing essential information which might have been lost in the black and white version.
p. 239; Fig. 17 | Navigating and anchoring in a coral lagoon. The water depth can be estimated by observing the water color when the sun is at your back. The legend shows the anchor depth for a standard 6ft (2m) keel boat, ranging from light greenish blue (too shallow) to light blue (about right; ~4-10m) to dark blue (too deep). Shallow reefs (coral head/reef) can reach from the lagoon bottom (~100ft) straight up to several feet below the surface.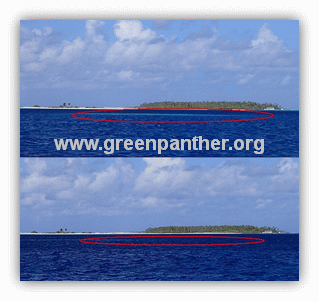 p. 240; Fig. 18 | The sun is essential to navigate an atoll. Shallow areas are easy to spot when the sun is up (upper image; light blue water in red circle) but are almost invisible when clouds block the sun (lower image). Image was taken in the Raroia atoll heading east with the sun behind us.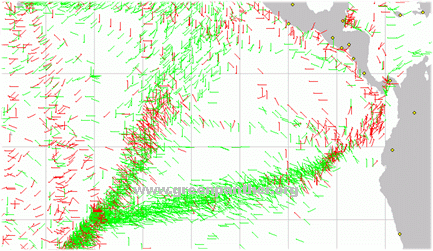 p. 317; Fig. 33 | Wind direction and wind strength recorded during Pacific crossings.

Above: wind direction aft of the beam (green) and forward of the beam (red) recorded for the month of May. The sail from the Galapagos (G) to Marquesas (M) looks like the perfect downwind run.
Below: wind strength from 0 kts (dark blue) to 20 kts (green) and >32 kts (red) with intermediate speeds shown in intermediate colors for the month of May. The entire east Pacific shows only a handful of >32 kts recordings for this time of the year.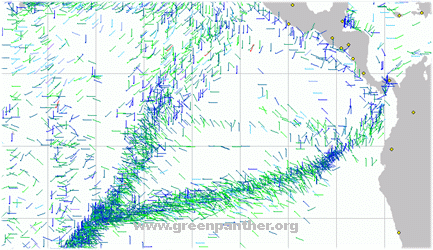 Hits: 3146
RSS module greenpanther.org