This is the story of our good old sailboat Green Panther. She is a kid from the seventies and so are we. Born in 1973, most likely in California, she has spent her life sailing the seven seas (or at least most of them).
Green Panther is a Columbia 34 Mk II built by the Columbia Yacht Corporation in 1973. The Columbia 34 MkII was one of the famous Bill Tripp designs, sporting a high freeboard and the "Bubble Top", built from 1971 to 1975. The sail plan is a simple sloop rig. It has an external cast iron fin keel attached with keel bolts, spade rudder, and it originally came with an internal Palmer P-60 auxiliary gas engine.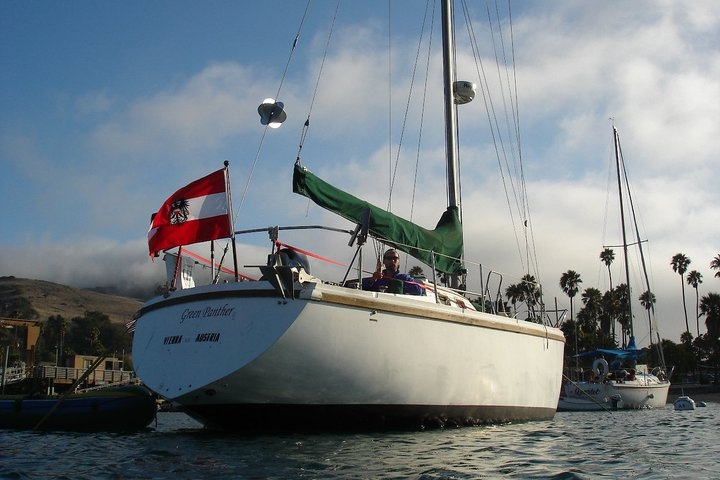 s/v Green Panther before the maekover. Here we are moored at Catalina island, CA, USA.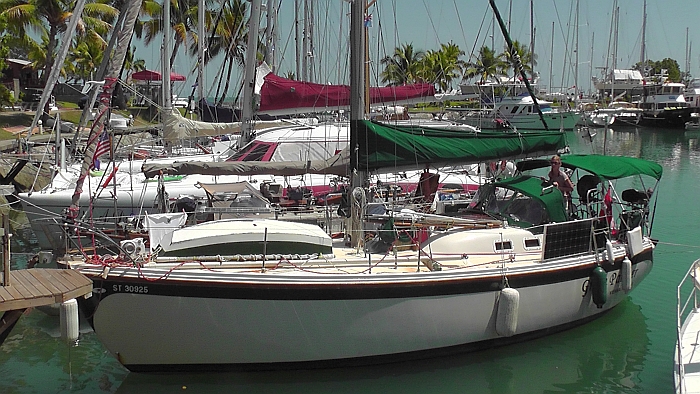 Green Panther after we put a lot of effort, swet and boat bucks into her.
The layout is typical for boats from the seventies of this size. Forward you have an anchor chain locker and a generous v-berth which comfortably sleeps two. Well, generous for most people. The v-berth is about 6'4'' long and I am 6'5" tall so we lengthened the berth a bit and shortened the anchor chain locker; now I can stretch out comfortably. Aft of the v-berth are two lockers on the port side (left side of the boat): a larger one for all of your wife's clothes and a smaller one for yourself - so I was told by my wife. On the starboard side (yes you guessed it, that is the right side of the boat) is the head. That's a very polite nautical term for the bathroom. We do have a toilet connected to a holding tank, a sink and possibly a shower in there. I say possibly because there is really not much room and if you would shower the entire bathroom would get drenched and the interior walls are made out of beautiful wood and . . . well, we will see how we go about that.
Continuing further aft from the head is a u-shaped dinette on the starboard side which comfortably sits four. Our dinette is a bit smaller than what it was originally because I installed our diesel heater there - an essential item during our stay on the Snake River in eastern Washington where the temperature dropped below 10°F some winter nights and froze the water surrounding Green Panther.
Across the dinette (port side) is a long couch with a cushion back that can fold up to make a second bunk. This is the berth we plan to use at sea since the v-berth will be too bouncy to sleep in while Green Panther is surfing up and down the Pacific waves. The bunk beds also come in handy whenever we have guests - so if you visit us you will most likely sleep on those bunk beds.
In the aft portion of the bubble top cabin, along the port side, is the galley - another nautical term for what landlubbers call a kitchen. The galley on board Green Panther is small but has all the essentials. We have a stainless steel sink, a four burner stove with a little oven, an icebox, and shelves for food storage. Alena has tested the oven extensively and produced delicious pizzas, pies and cakes. The icebox will soon be converted to a refrigerator unit once I figure out how to connect those hoses. :-)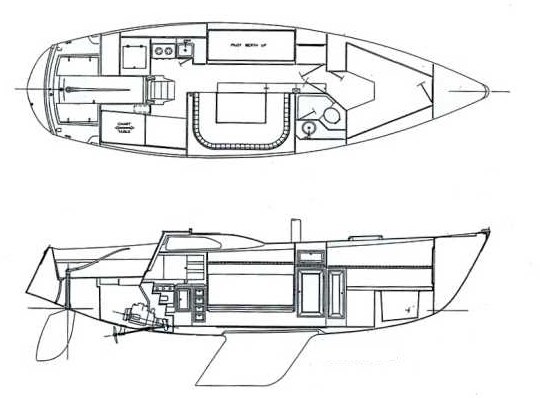 Opposite of the galley is what will be the navigator station (starboard side). Right now there is not much there; the previous owner had a non-functioning moldy freezer unit installed in this space which I ripped out immediately. We hope to eventually set up this space with our chart plotter and ham radio. The nav station will also do double duty as an office to work on blogs, phylogenies, and whatever else comes up.
Green Panther sails pretty well and for the most part it's a dry ride because of the high freeboard. The drawback is she doesn't perform well in light air since the sail plan is not too generous and she likes to be reefed (when you reduce the sail area) early when going to windward.
And finally our Green Panther got her name from a combination of the coat of arms from my hometown, Graz, Austria (it has a medieval panther), and the fact that our favorite color is green. So Green Panther is much more like a fire breathing (and swimming) dragon than a green version of the pink cartoon figure.



SV Green Panther Logo and a snapshot on the Snake River in Washington State.
See you on the water!
Alena, Chris and Green Panther
Hits: 20390