January-February 2016


Apologies for our blog's long hiatus. We spent most of late February and March madly writing grant applications so perhaps we can stay in Brisbane a bit longer and I can get my own research project again. Wish us luck! Here is our belated blog from Jan and Feb:
When just the act of standing outside, doing no physical activity at all, results in your body mimicking a lawn sprinkler and dripping sweat all over you, it is time to do something about it. These last two months of summer we decided to do like the Aussies do, and when temperatures climbed into the 30s and the humidity was over 80%, we got out of Brisbane and headed to the beach! There are many gorgeous stretches of beach within a 2 hour drive north or south of Brisbane, so every couple weekends we chose a new one to explore.
Our first weekend in January, we decided to head south, since up until now, most of our explorations have been in the north. We drove a short bit past the high rise condos of the Gold Coast and Surfer's Paradise and stopped in Burleigh Heads, a semi-protected beach in the lee of a headland. Our guidebook said the town was less touristy and busy than the Gold Coast, but on this hot weekend it was still packed (for Australia). After a bit of circling the parking lots, we got lucky to find a car leaving. We pulled in, grabbed our beach umbrella and towels, and hit the beach. The wind was rather fierce and we had some difficulty getting our beach umbrella to stay put initially, but after Chris dug a half meter hole in the sand and buried the post, we had no more problems. We spent the day attempting to body surf in the waves and relaxing on the sand under our umbrella. This is so much better than hanging out indoors in AC!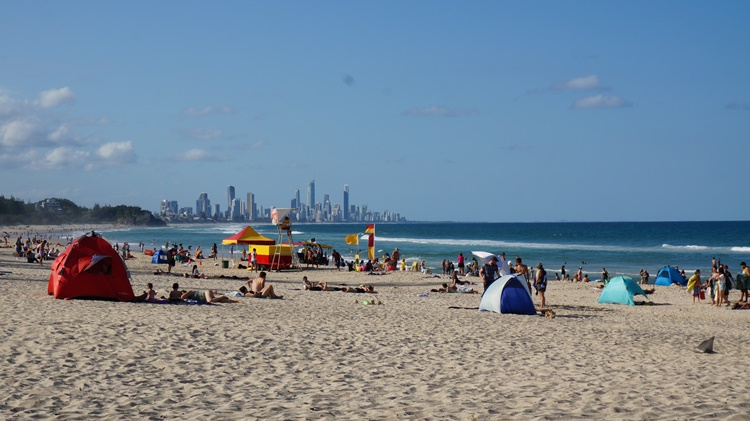 The beach at Burleigh Heads. You can see the high rise buildings of the Gold Coast just north of us.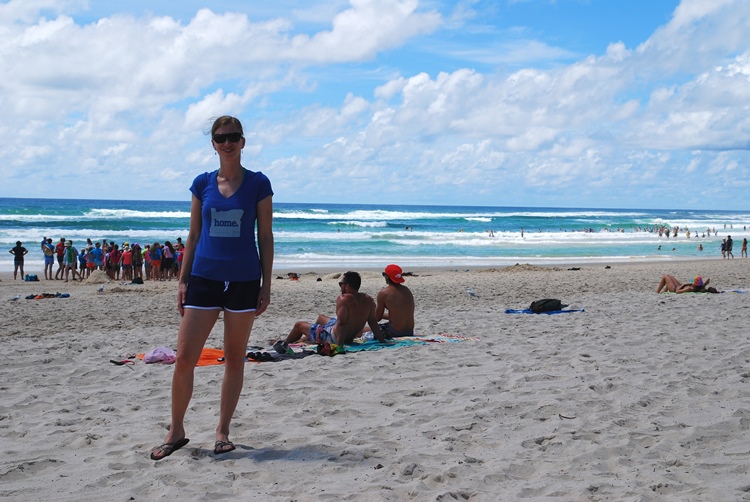 There are some great waves at this beach. I'm also sporting the awesome Oregon t-shirt my friend Melissa got me. Thanks Melissa!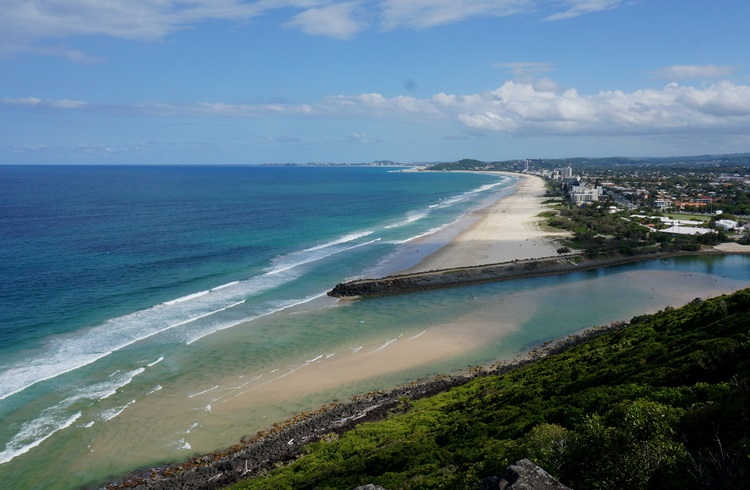 Walking around the headland at Burliegh Heads you can see the Burleigh River mouth and more beautiful beaches stretching further south.
We loved being in the water, but it was rather difficult to catch waves by just swimming so we thought we'd make it easier on ourselves and a couple weeks later, invested in a pair of boogie boards at Aldi (a discount grocery store). What a difference they make! We headed north to the beach at Mooloolaba with some friends of ours (who also bought the same boogie boards) and spent two hours riding the white water in from the large breaking waves. We got tons of great rides, and by the time we finally tore ourselves away from the waves, our arms were quite sore (and stayed sore for the next several days!).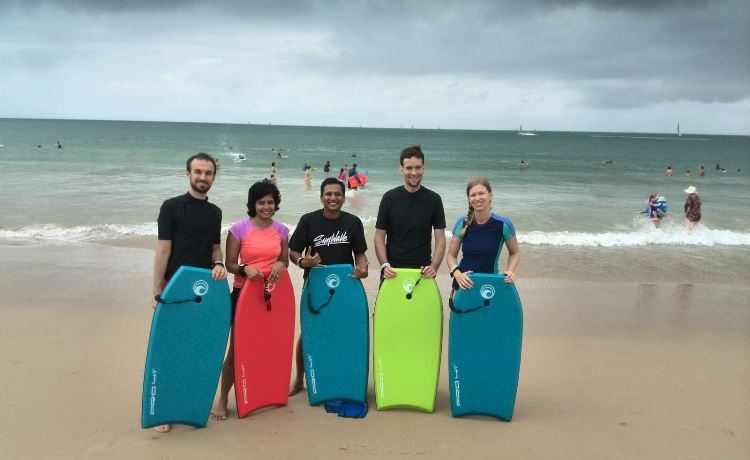 Our boogie boarding team at Mooloolaba (from left to right): Julien, Rochelle, Navin, Chris, me.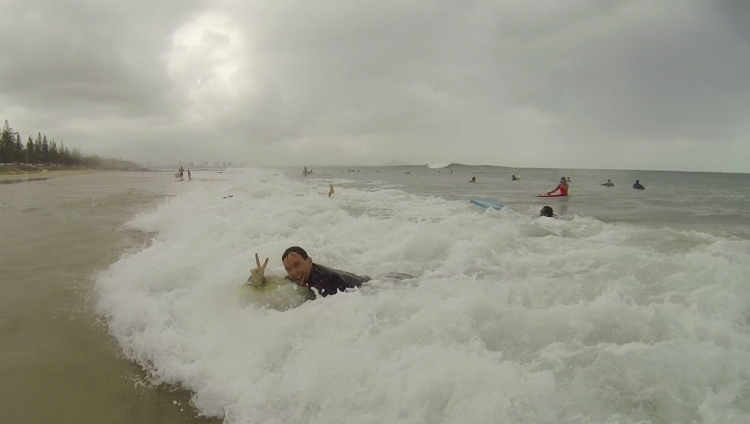 Catching a wave into shore.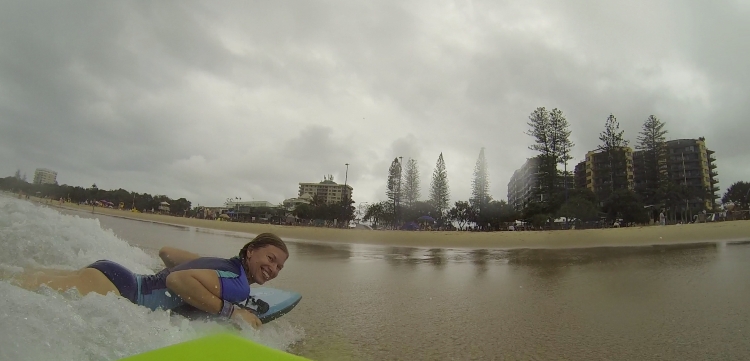 The next hot weekend that was forecast we decided to go all out, and rented a room through Airbnb at Brunswick Heads, about 2 hours south of us in New South Wales. Brunswick Heads is a small, quiet town just north of busy Byron Bay, with great beaches and protected swimming areas near the mouth of the Brunswick River. We alternated between enjoying the small town peacefulness of Brunswick Heads and exploring its larger cousin Byron Bay. Byron Bay is home to a lovely headland, which reminded me of a mini Cape Perpetua (a headland on the Oregon coast), and we hiked the beautiful track that circles it.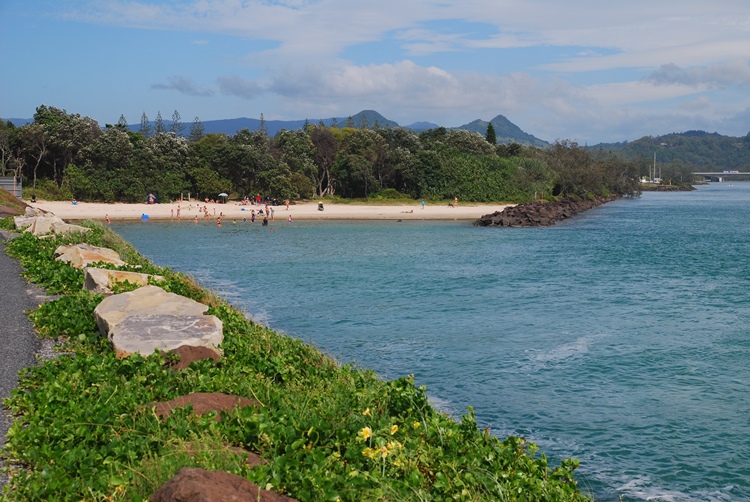 An idyllic beach in Brunswick Heads close to the river mouth. Perfect for swimming.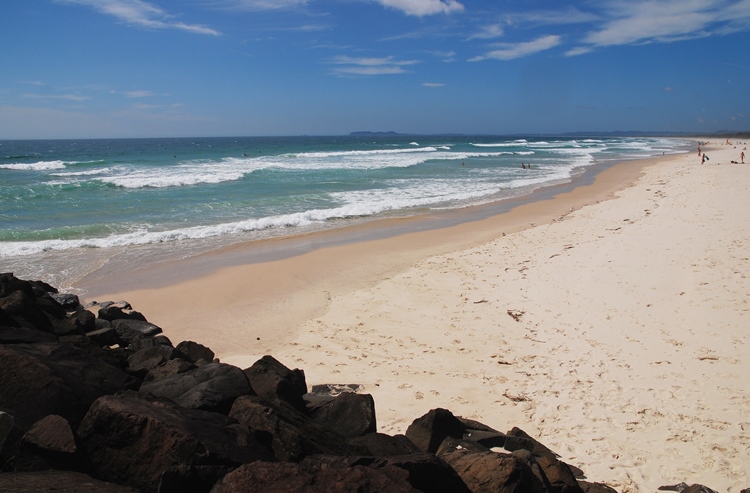 The main surfing beach at Brunswick Heads.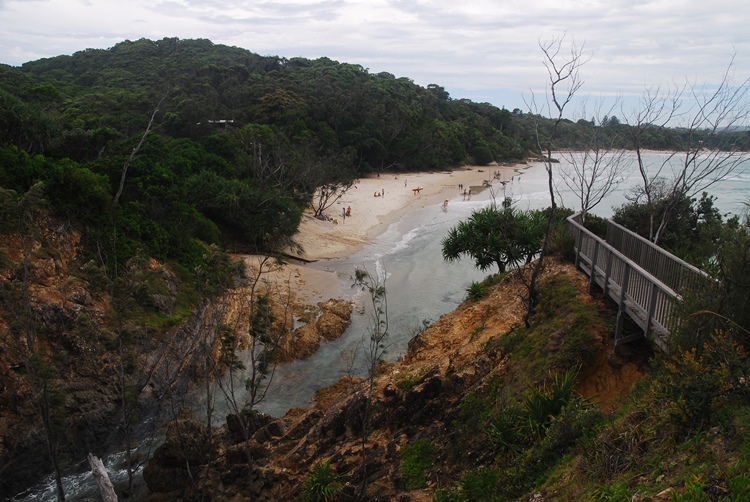 Walking around the headland in Byron Bay.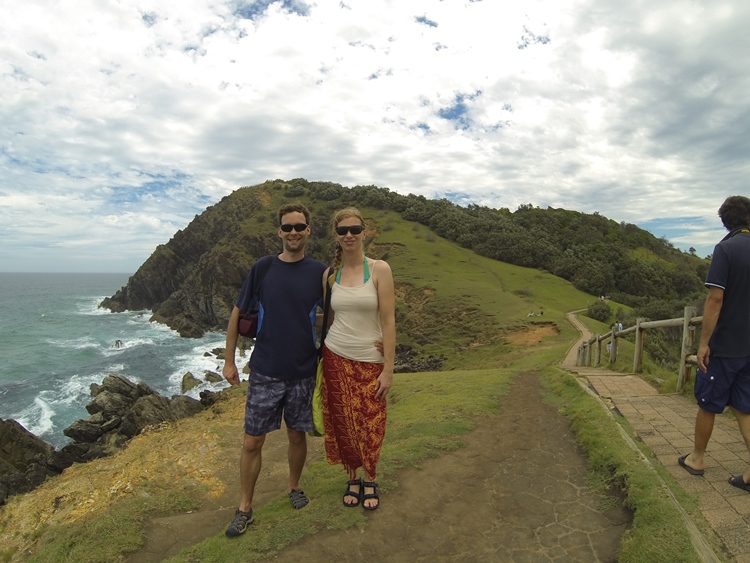 Still walking around the headland...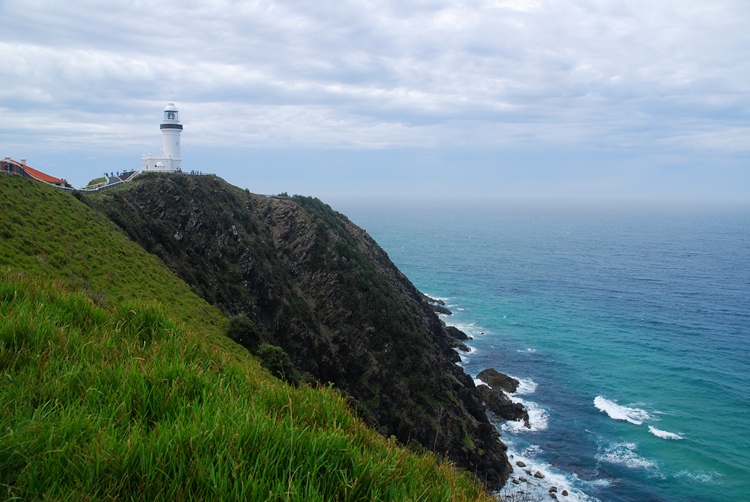 The lighthouse at Byron Bay.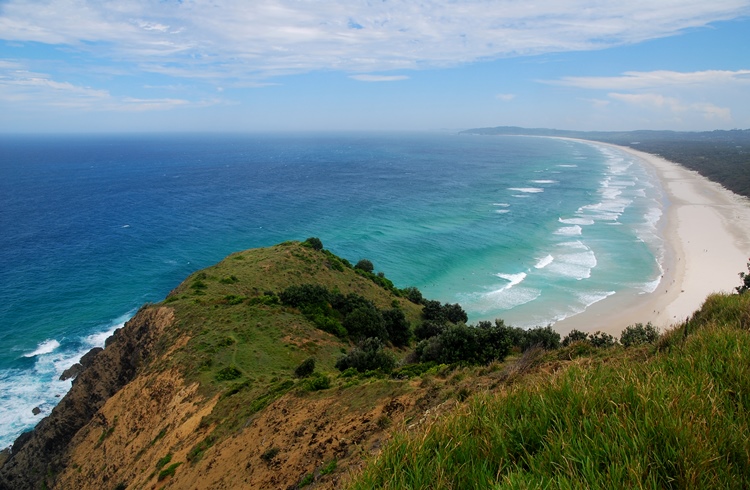 And of course the beach at Byron Bay (southern end).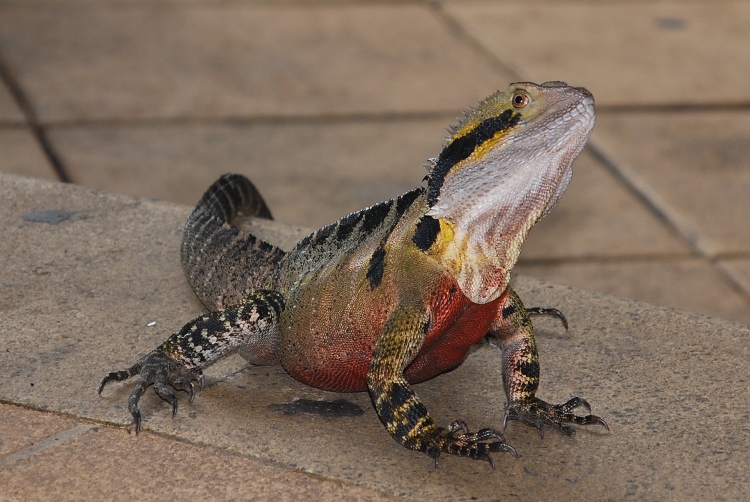 With the warm temperatures, the local iguana, called a water dragon, is also out and about.
February we didn't make it to the beach as often as we would have liked as a result of grant deadlines looming at the start of March, but we did manage to partake in a snorkel clean-up at Mooloolaba early one morning, and later enjoyed a return trip to Burleigh Heads with our boogie boarding friends.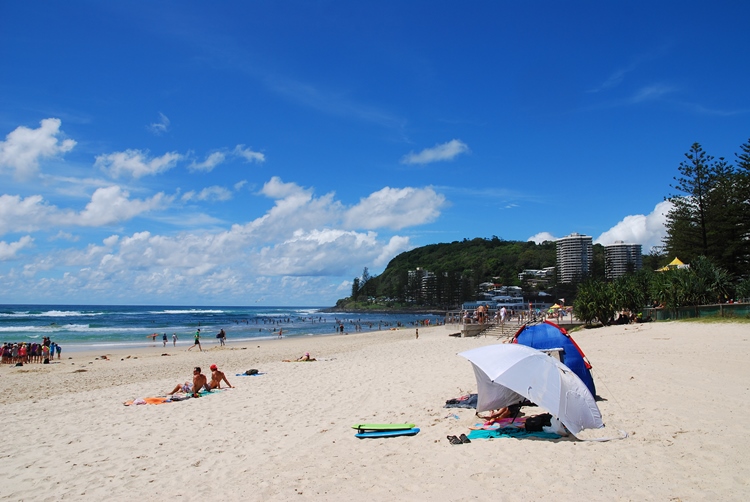 At Burleigh Heads again. Here you can see the headland it is named for just north of us.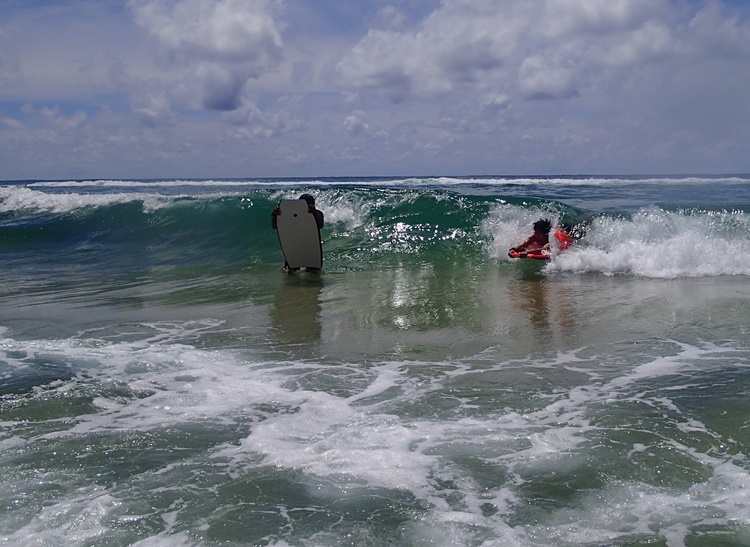 Rochelle catching a wave.
Although summer is still my least favorite season in Brisbane, visiting the beaches has sure helped us enjoy it more than we did last year! And the best part is that now it is fall, theoretically it should be starting to cool down and maybe we can get out hiking again…
Hits: 8496
RSS module greenpanther.org