November 2018 - Island Hopping in Moreton Bay, Queensland

After 4 years on the Brisbane River, it was time for us to move our sailboat, Green Panther to a new location – this time in Moreton Bay.

.
On a sunny Saturday morning, we set sail to explore the southern part of Moreton Bay, curious to see what we would find down there.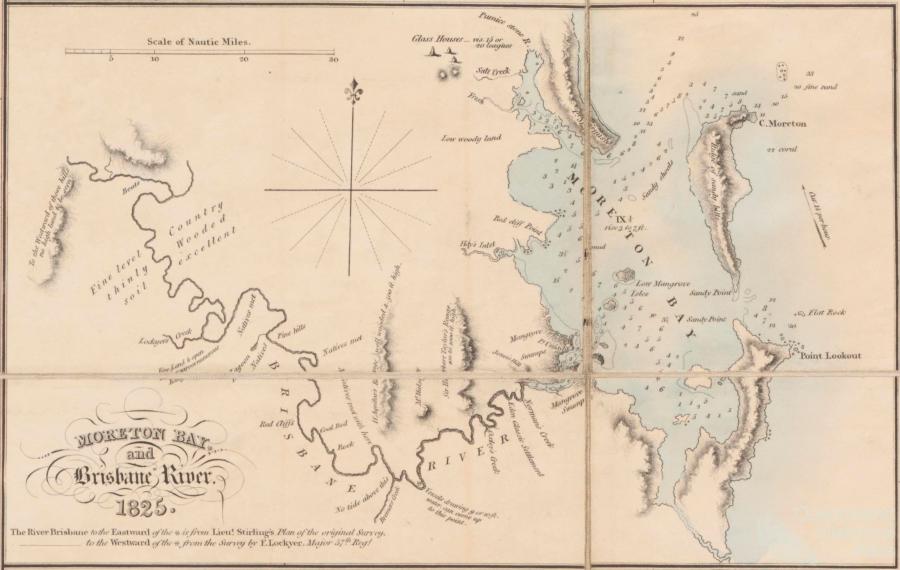 A map of the Brisbane River and Moreton Bay from 1825. (source: Queensland Historical Atlas, 2018)
Untying our ropes, we performed our usual motoring/sailing exercise down the river, pushed by the outgoing tide. After 1 hour we passed the Rivergate Marina next to the Gateway Bridge and were surprised to find Sea Shepherd's flagship, the M/Y Steve Irwin, berthed there. Later we learned that the Steve Irwin was on a mission to "defend the Great Barrier Reef from threats posed from the Adani coal mine."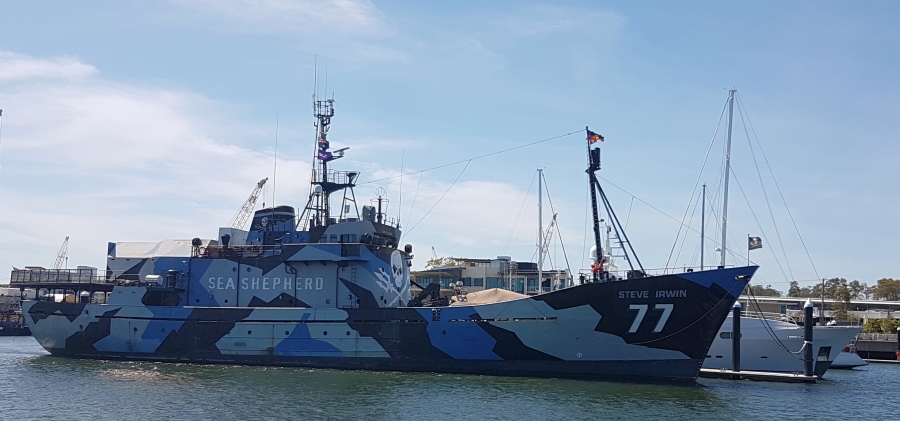 Sea Shepherd's flagship the M/Y Steve Irwin berthed in the Brisbane River
Two hours into our trip we passed the Port of Brisbane and entered the Brisbane River Entrance Channel which we had to share with the large vehicle carrier, PROGRESS ACE, arriving from Japan loaded with cars.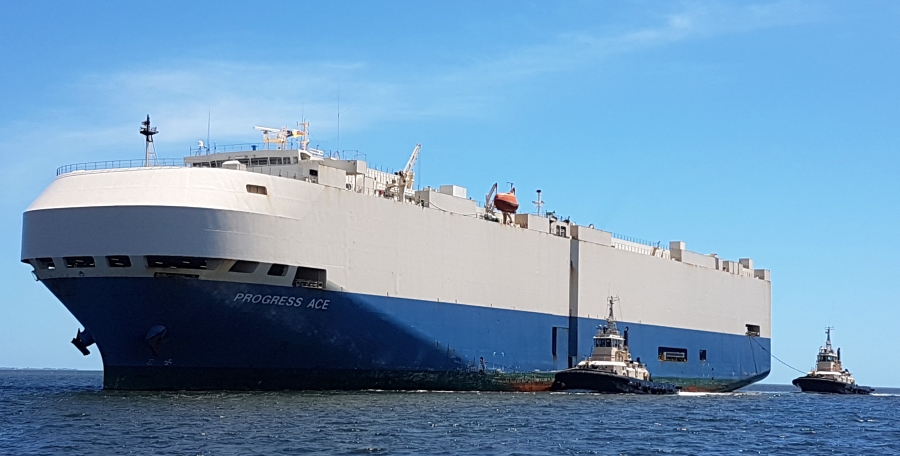 The vehicle carrier PROGRESS ACE is guided through the mouth of the Brisbane River by two tug boats. If you want to know where the carrier is right now,
check it out here: Progress of Progress ACE.
It was now 10am and the wind had picked up quite a bit, already blowing 15-20 knots from the North. Unfortunately, the Brisbane River entrance channel points almost directly north, so into the wind, and we were arriving on an outgoing guide. This meant we had a wind against tide scenario – which usually leads to short steep waves breaking in the river entrance. We assessed the situation and found the waves had started to build but were not too bad yet, probably because it was only about two hours after high tide. So, close hauled and with engine support we went for it, pushing Green Panther close to the East "Coffee Pot" buoy – yes, this buoy is so special it got its own name – before we turned Southeast.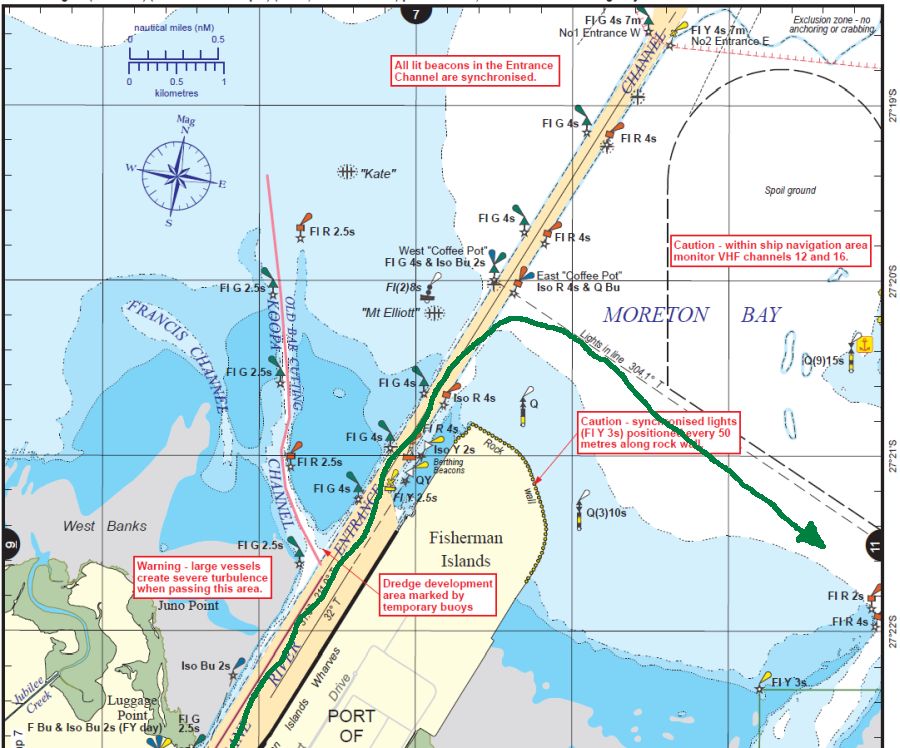 Chart of the Brisbane River Entrance Channel, also know as the Brisbane Bar or the Brisbane River Mouth. Green Panther's track close to the "Coffee Pot"
buoy is shown in green. Source: Maritime Safety Queensland.
From there it was a fast and fun downwind run. We sailed between Mud Island and St. Helena Island, passed Green Island in the distance and sailed south around Hope Banks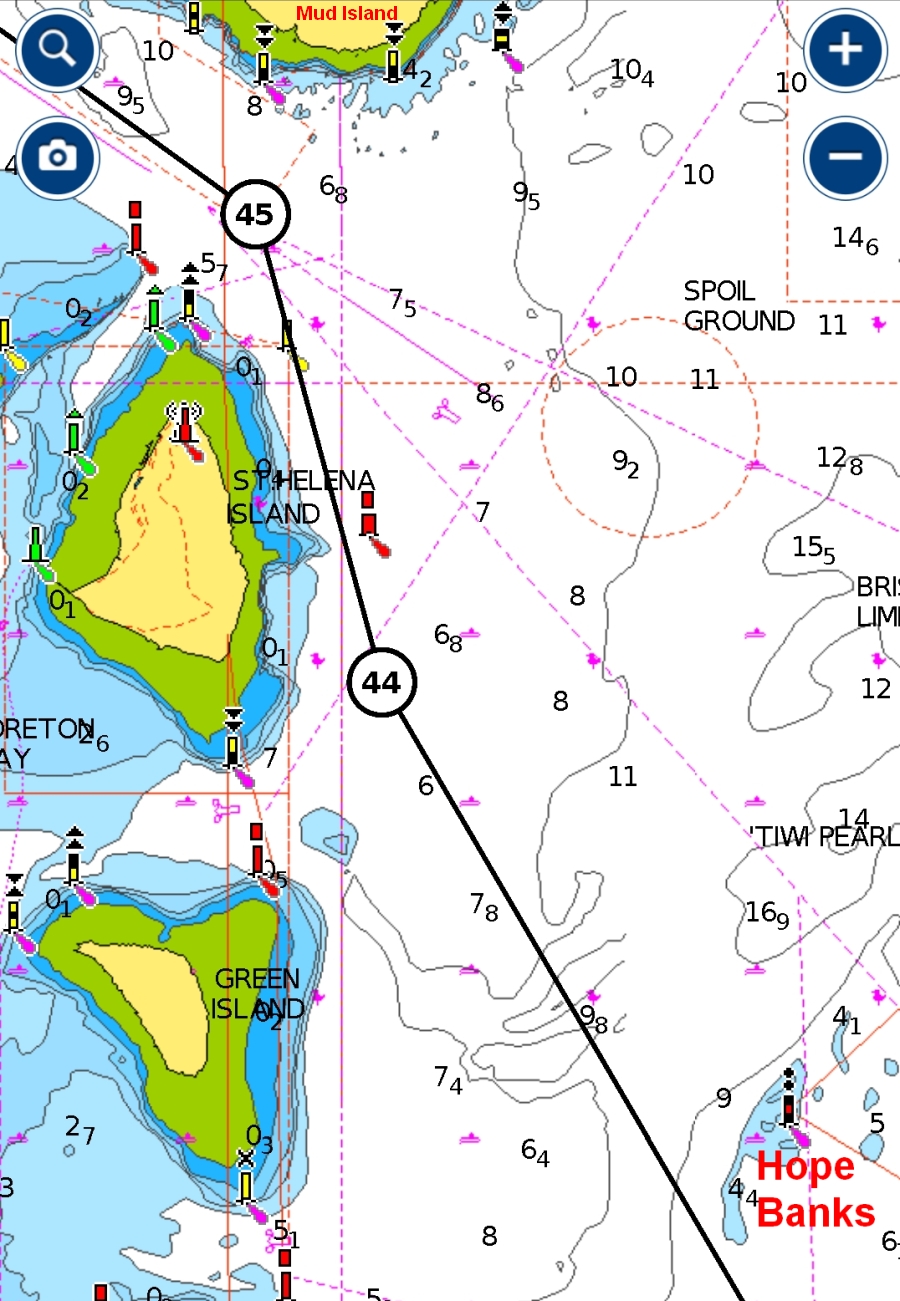 Our route South around Hope Banks. (Source Navionics).
Next, we passed Peel Island, a horseshoe shaped island that provides one of the few anchorages in the Bay that are sheltered from the North (apply named Horseshoe Bay). A great place with a beautiful sheltered beach and some coral heads to snorkel around. Not surprisingly, the anchorage was packed on this day since everybody was seeking shelter from the Northerly. The wind seemed to funnel around Peel Island and we picked up quite some speed with gusts- pushing our good old boat to 7.5 knots!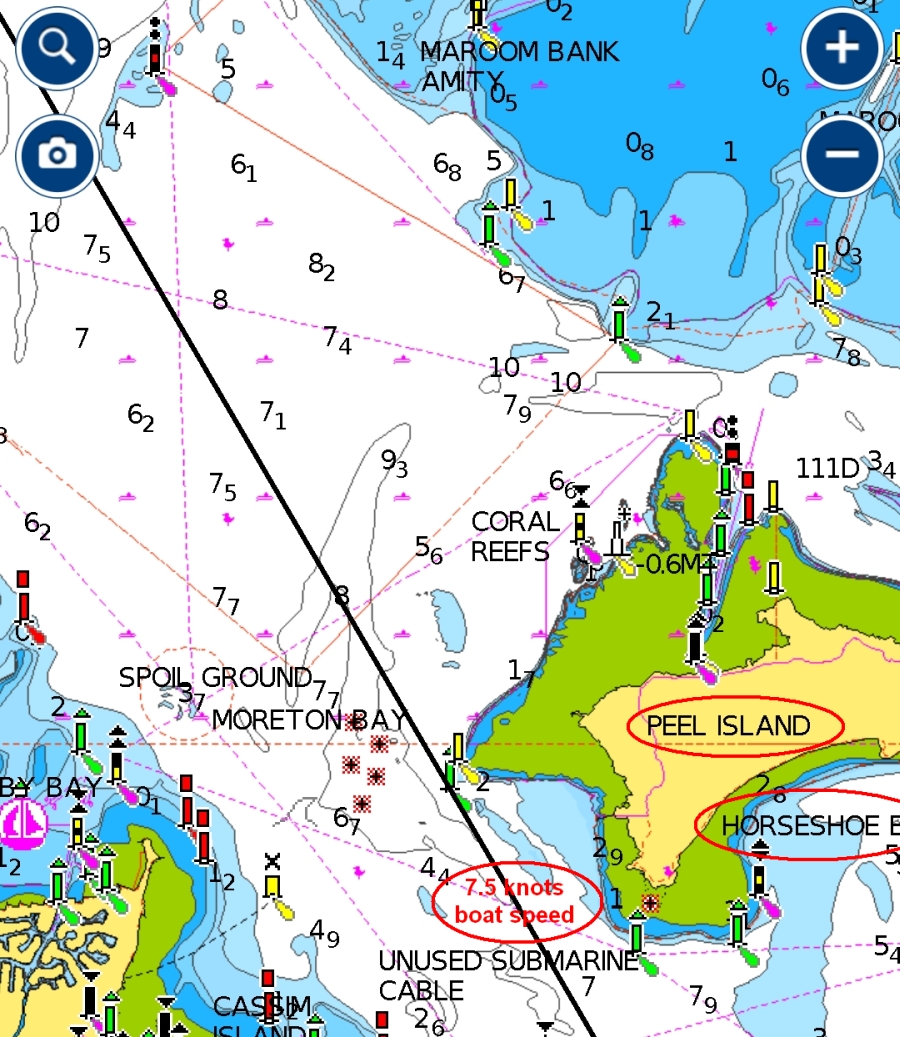 Our route south of Peel Island, where we picked up quite some speed.
So far so good, but now we entered the island and channel network of Southern Moreton Bay - a scary area, well at least for sailboats with a reasonable draft (Green Panther draws 5'6"). We avoided Banana Bank and found the most suitable passage west of Snipe Island.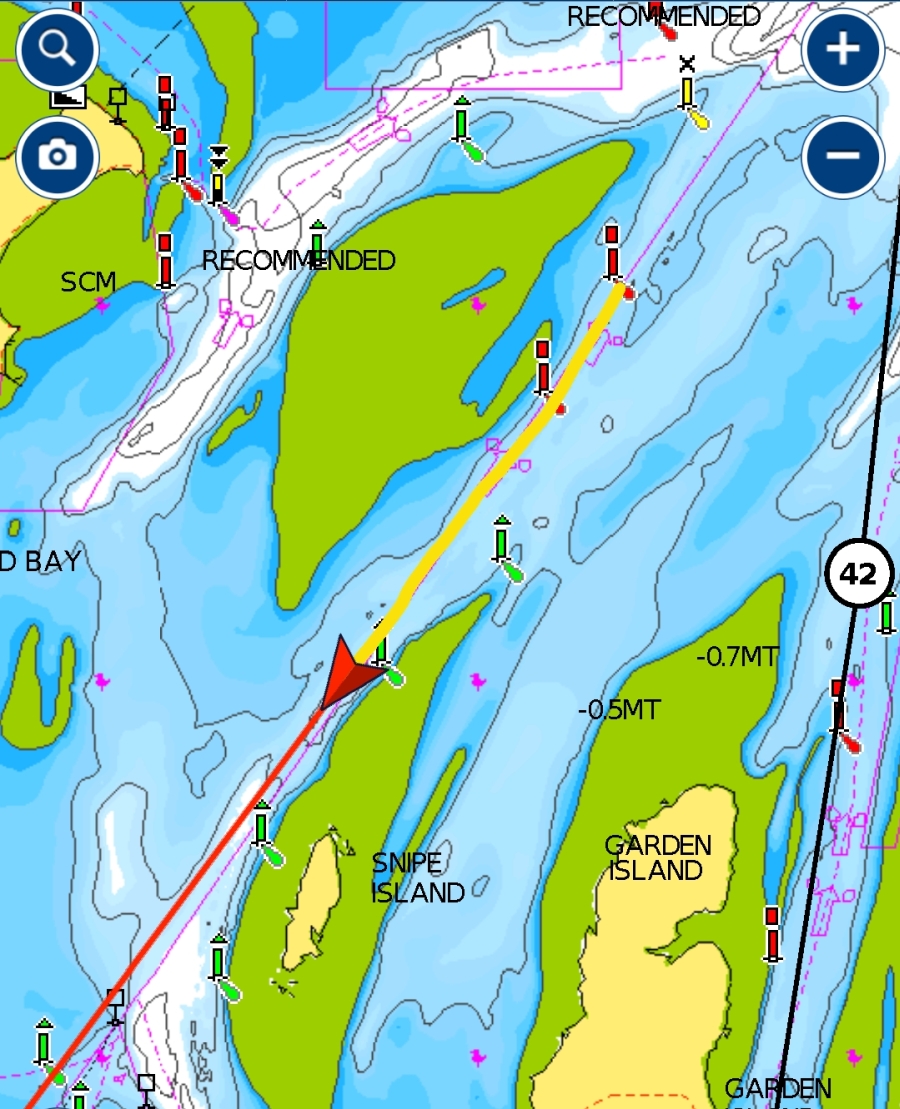 Sailing between an unnamed mudflat and Snipe Island (yellow line). Our original planned course (black line, #42) would have meant navigating through areas
marked as 1m (3ft) at low tide – we opted not to do that (Source Navionics).
From Snipe Island south the channel was well marked and we found the shallowest area to be the narrow channel on top of Long Island with about 9 ft water depth, 2 hours after low tide.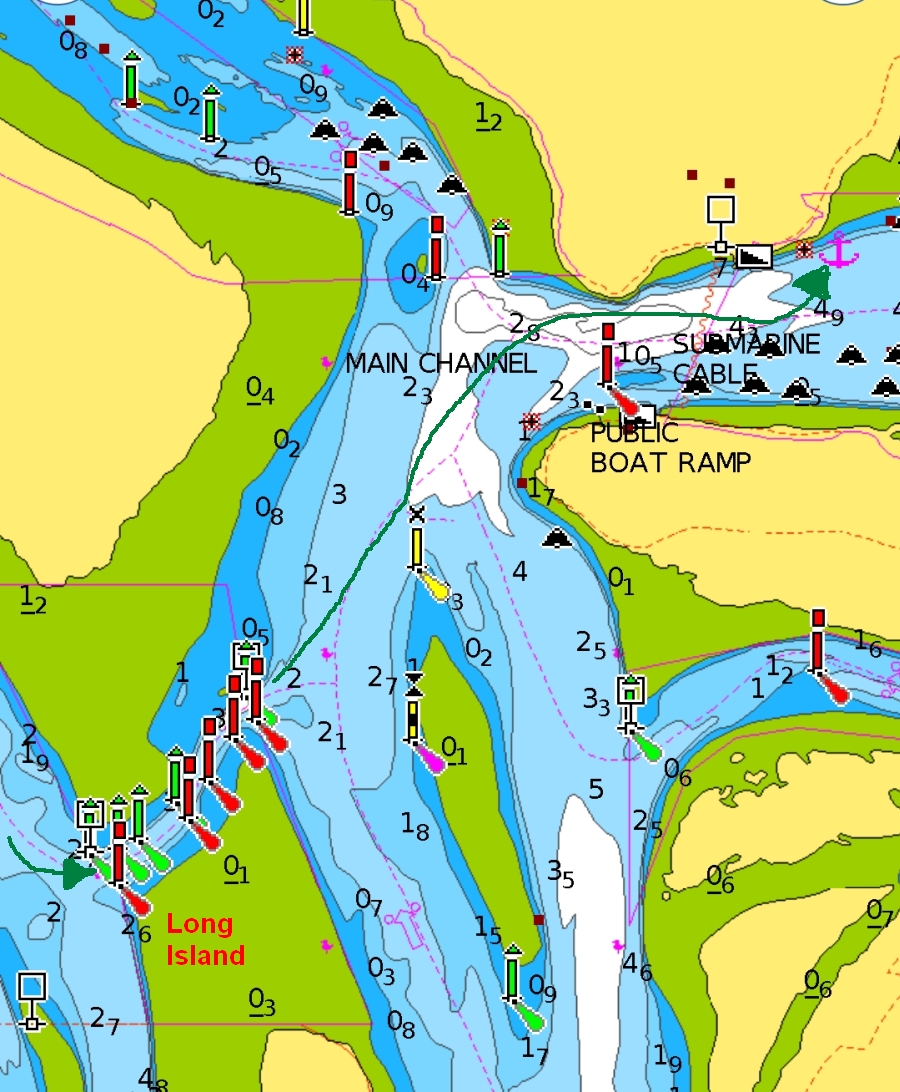 Sailing through the Long Island channel to the Macleay anchorage (Source Navionics).
We anchored south of Macleay Island, a very protected anchorage but with lots of traffic from car and passenger ferries.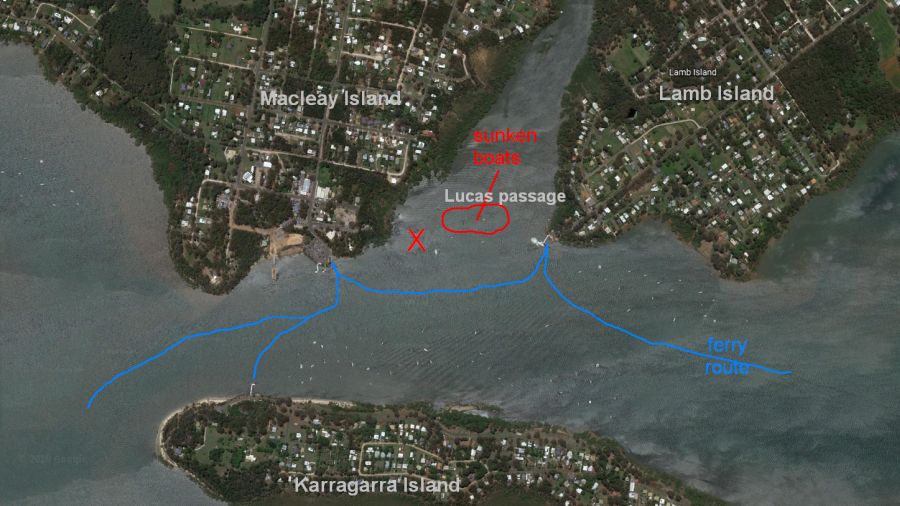 Macleay Island anchorage. Well protected by with lots of ferry traffic. The X marks the spot where we anchored and corresponds to the pink anchor symbol in
the chart above. Further in the "Lucas Passage" we saw several sunken boats, an area to avoid. (Source Google Earth).
The next day we followed the well-marked main channel further south and found depths of at least 12ft at all times. The only interesting situation is around Steiglitz, where the main channel is so close to shore that you can almost jump onto one of the docks while sailing by. Luckily, it didn't get shallower than 8.6ft there.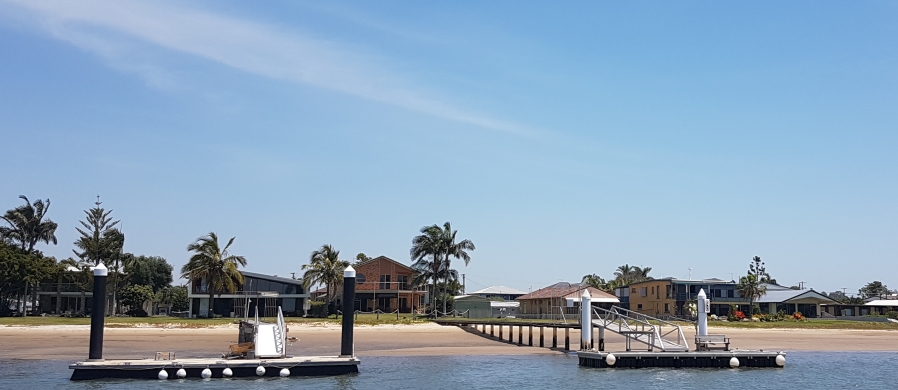 Sailing by Steiglitz. You can almost touch the dock.
Two hours after we left Macleay Island, we tied up in Horizon Shore Marina, Green Panther's new home for the foreseeable future.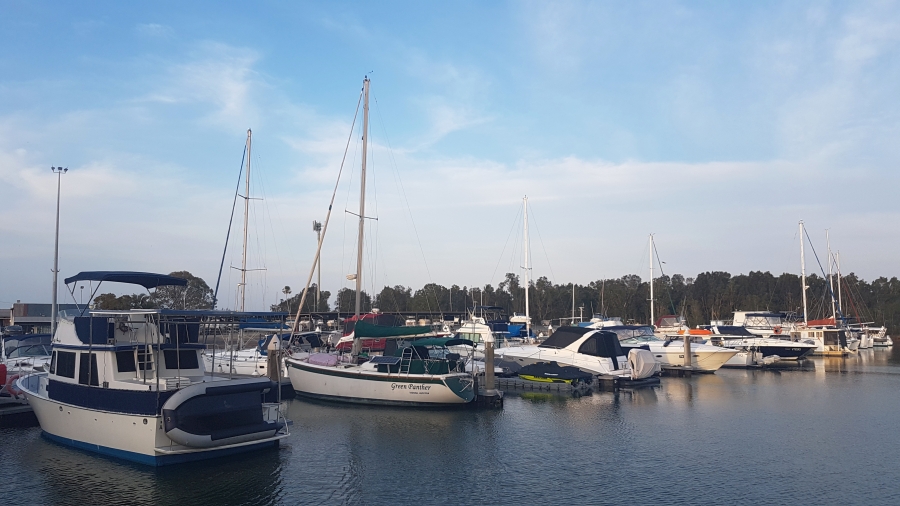 Green Panther in Horizon Shore Marina.
To sum it all up, we had a great downwind run to Southern Moreton Bay, and can't wait to explore the area more.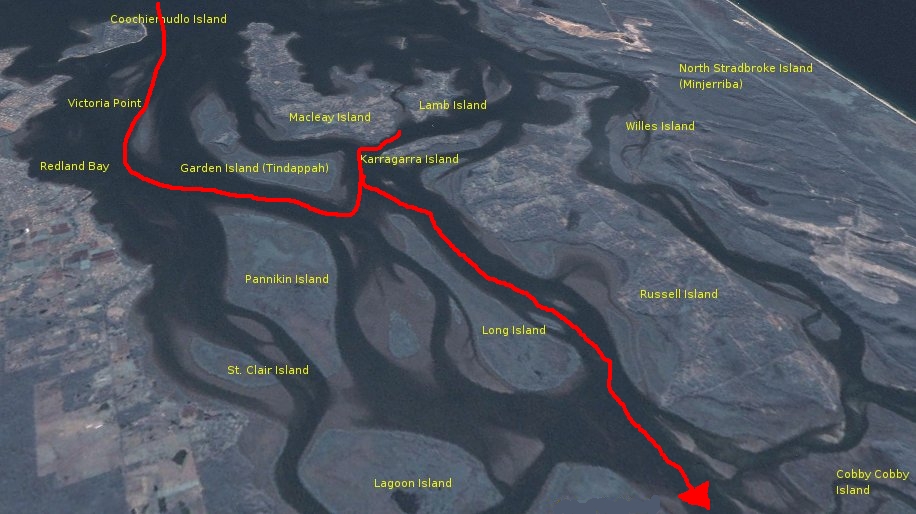 Our route through Southern Moreton Bay (Image updated from Wikipedia).
Hits: 27861
RSS module greenpanther.org