Week of 12/09/13 - 12/16/13

Monday morning we finally made it to La Paz. We are now snugly settled in at the Marina Palmira for the next month while we try to finish some of the boat projects we didn't have time for in Emeryville.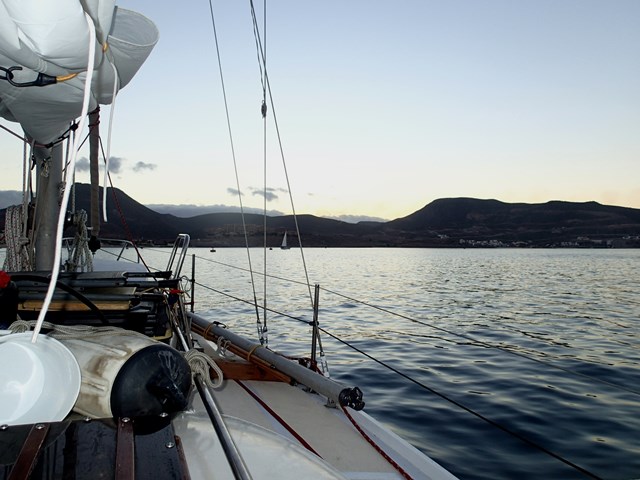 Approaching La Paz Monday morning.
Coincidentally, two of the sailboats that were docked directly behind us at the Emery Cove marina in Emeryville (Landover and Cetus) are on our same dock here as well!
For the first several days we spent most of the time catching up on sleep, cleaning our boat of all the saltwater and sand that had accumulated during our week long passage from Cabo, and exploring our new surroundings. Very unexpectedly, during our explorations we met two different German-born residents who make and sell German sausages, and other German cured meats (bierschinken, speck, ham, etc). Although we are enjoying the Mexican food, we are excited we'll be able to get some familiar european treats for the holidays! We've also been getting our exercise here; the marina is about a mile and half from town, so we've been doing a lot of walking. And when we want to add in some hill work to our walks, there is a hill with an excellent view of La Paz Bay right behind the marina.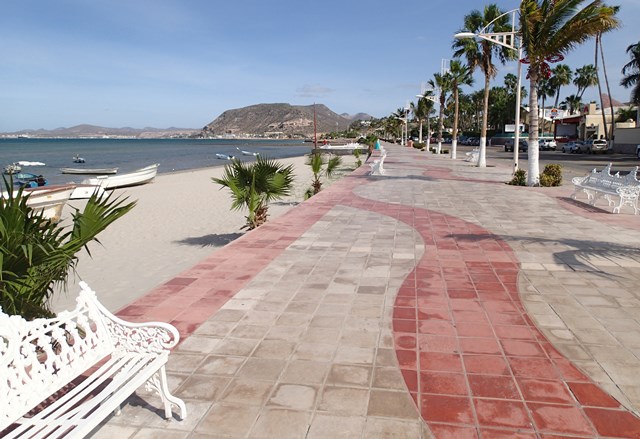 Waterfront promenade (called the Malecon) that extends the length of La Paz bay.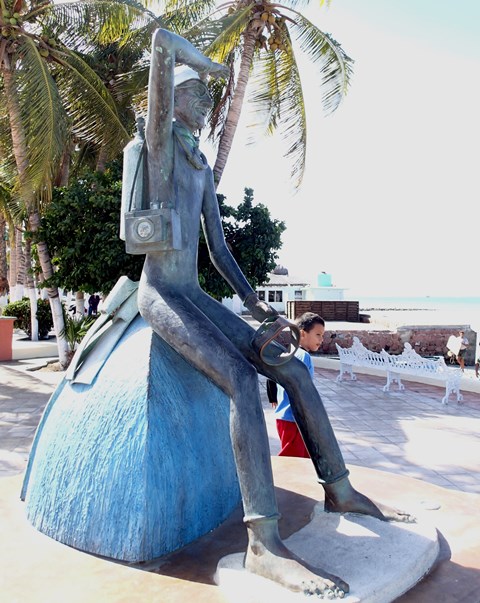 Along the Malecon are several ocean-themed sculptures. This is one of my favorites - a very skinny Jacque Cousteau!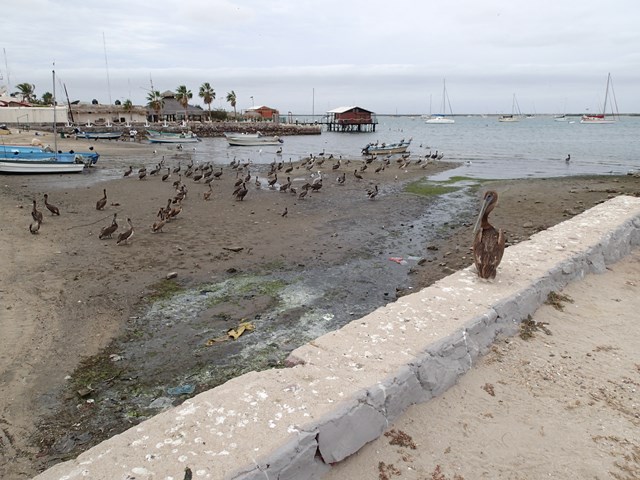 We located the favorite pelican hangout - at a launching area for the fishing pangas.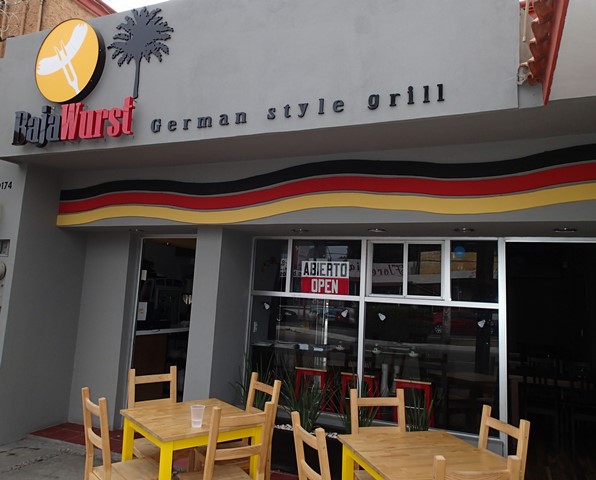 One of the German sausage makers we met - we never would have thought we would find German food in Mexico!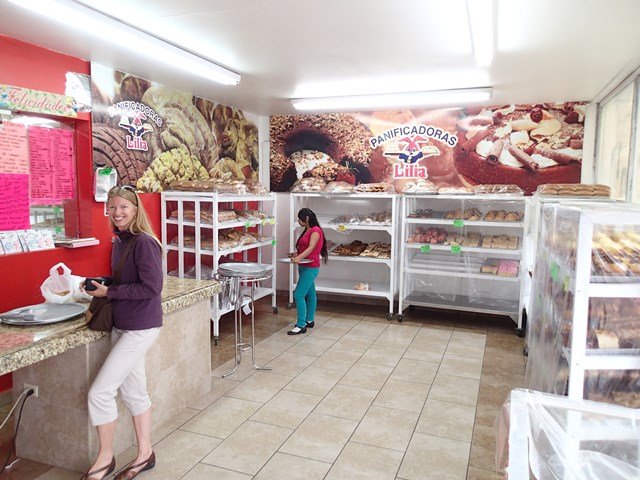 We have to try out all the panaderias to see which one is best...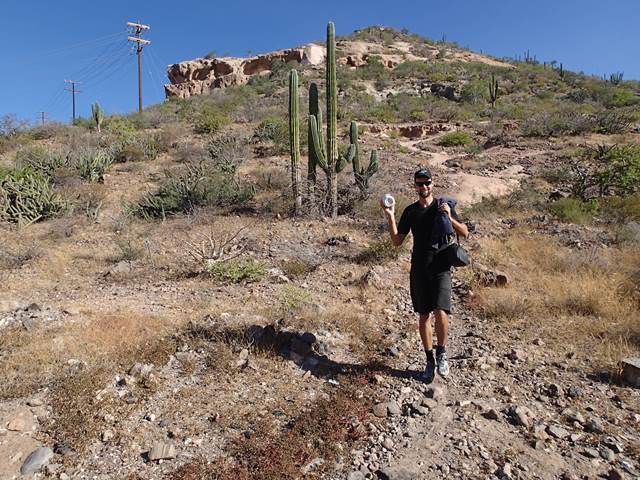 Hiking back down the hill behind our marina. Christian found what he thinks is a part for a remote-controlled airplane.:)
Now that the boat is cleaned up though, it is time to mess it up again with boat projects! Someday my dream of a clean boat will happen... Anyway, the first project Chris is working on is re-wiring our boat. We haven't had any cabin lights that run off battery for about a year – ever since the wires that run through our deck were accidentally cut when we were restoring the deck. This means as soon as it gets dark and we do not have shore power from a marina, we are very dependent on headlamps! It would be really nice to have cabin lights again. Not to mention being able to hook up our Ham radio and VHF radio (we've been using a handheld VHF radio but the range is fairly poor). Anyway, as part of the re-wiring project, Chris is building some awesome towers that will house our radios, inverter, 12-volt chargers, and a new larger electrical switch panel.
In the meantime, I am attempting to teach myself how to sew so I can finally make some new cushion covers. The existing cushion covers were already on the boat when Chris bought it and most are ripped. So far I've removed the sewing machine from its box, figured out what all the knobs and levers are for, and managed to wind a bobbin and thread the needle. Now I am reading up on how to make a pattern for the cushion covers. Wish me luck (I need it as I have never been the sewing type)!
Later this week, to remind ourselves where we are, we will take a couple days off to explore the area with our boat. We hear rumors that whale sharks come visit this time of year at a nearby sand flat, and at one of the nearby islands you can go swimming with playful sea lions. Not to mention there should be good hiking on the islands. Anyway, we are hoping our next post will be full of really great wildlife pics! Or if nothing else, at least some nice beach and hiking pictures. :)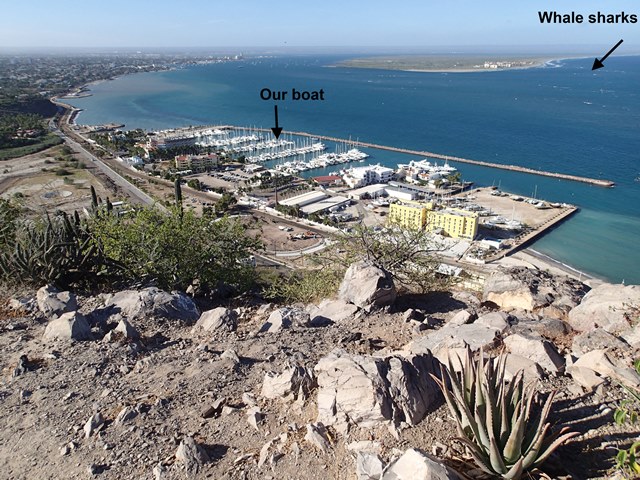 View of La Paz Bay from the top of the hill behind our marina. Indicated on the pic is where our boat is and where the whale sharks are rumored to hang out.
Hits: 5655
RSS module greenpanther.org