.

Reflections on dentists visits in La Paz

At any time, a great white shark may have about 300 teeth in various stages of development within its jaw. Humans have only a maximum of 32, this can be a problem.

How did I end up here, I asked myself. There is a big screen on the wall in front of me, it shows an aquarium, animated of course, with several colorful fish swimming happily about. There is a second screen on the high ceiling right above me. I can see this screen because I am lying in a chair, feet elevated and head lowered so far back that I stare right at this screen on the ceiling. I don't like the show that's on right now. A gigantic drill digs itself deeper and deeper inside a molar and is getting closer and closer to the root. I could care less but unfortunately this tooth is a living part of my body, well not for long anymore because the purpose of today's exercise is to kill and remove the nerve within the root, commonly known as "root canal". The good news is that I don't feel a thing, whatever was in the huge syringe made me insensitive to any pain, I feel I could slam through a brick wall right now without getting a scratch. It's kind of ironic and I almost have to smile when the music playing in the background features the song "That's the Way (I Like It)" by KC and the Sunshine Band while the dentist switches to an even bigger drill bit and digs deeper into my tooth.
The dentist office is very modern and well equipped and Dr Saenz comes across as very experienced and professional. He explained everything in detail before he started and as far as I can tell things are going well so far. He uses a magnifying apparatus once in a while which has a digital camera that is connected to the large screen on the ceiling - mostly to help him see more details I assume, but the way I lay there I can see it too If I dare to look.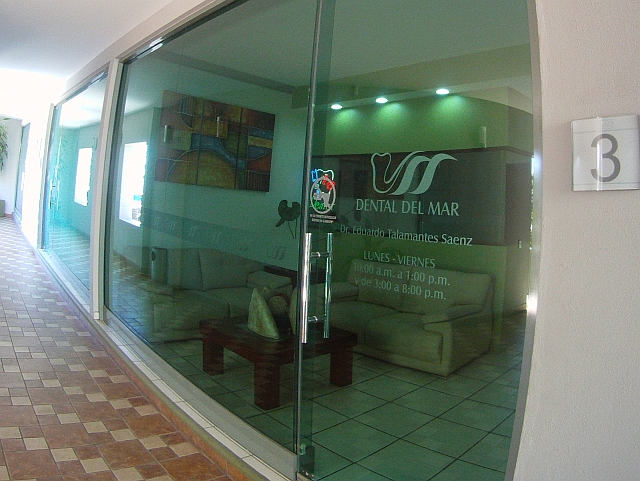 Nice office of Dental del Mar (Dr. Eduardo Talamantes Saenz) Corner of Reforma & Ramirez, Plaza Reforma, Suite #3, La Paz, BCS
About 30 min later it's all done, I rinse out and pay for the treatment. Dr Saenz wishes me a good day and says he hopes for me that he won't see me again. The guy has a good sense of humor for a dentist.
Next I run across town, apparently I feel great with all the drugs in my system, to the next appointment. And yes you guessed it, it's another dentist. It's actually Dr. Clavel and she referred me to Dr. Saenz for the root canal in the first place. She now prepares the tooth which just got a root canal for a crown. Well first she laughs, points at my feet hanging way over the dentist chair, and concludes that the chairs are made only for tiny Mexicans :-) . . . even though they are apparently produced in Brazil. Anyway everything went smooth and since we were having so much fun she also does a filling on my premolar on her way out. I will come back in 2 days to get the custom made crown put on and by then the entire procedure will have cost me without insurance (since I don't have any) about half as much as it would have cost me in the US with insurance.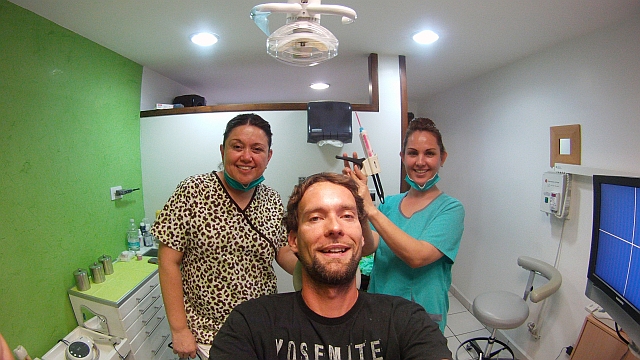 Dr. Yxchel Clavel Gutierrez from Arte Dental Essex (Allende and Normal, Durango 641, La Paz) on the left, her assistant
on the right, and patient in the middle ;-)
So overall my experience with the Mexican dental system was very positive. Well-equipped dental offices with professional staff who have humor. Well... but I do still prefer swimming with the sea lions :-)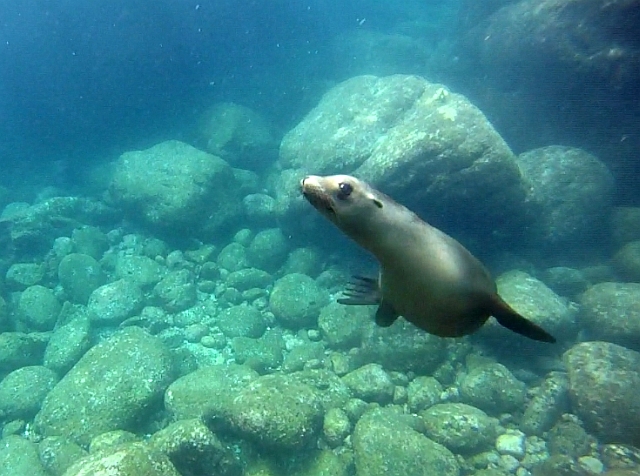 Curious sea lion at Los Islotes island, BCS, Mexcio
Keep smiling, Chris
Hits: 7457
RSS module greenpanther.org