Time period: Wednesday 03/05/14 – Sunday 03/09/14

We were happy to have an uneventful passage across the Sea of Cortez to Mazatlan.
Before heading across though, we first stopped at Bonanza Beach on the island of Espiritu Santo to enjoy one last day at a beautiful beach cove with clear aquamarine water. Bonanza beach is a 2 mile long stretch of white sand that is littered with shells. There is also good snorkeling by the rocks at the north end of the cove where we spied an octopus and his garden! It was a great way to spend our last day in the Baja region.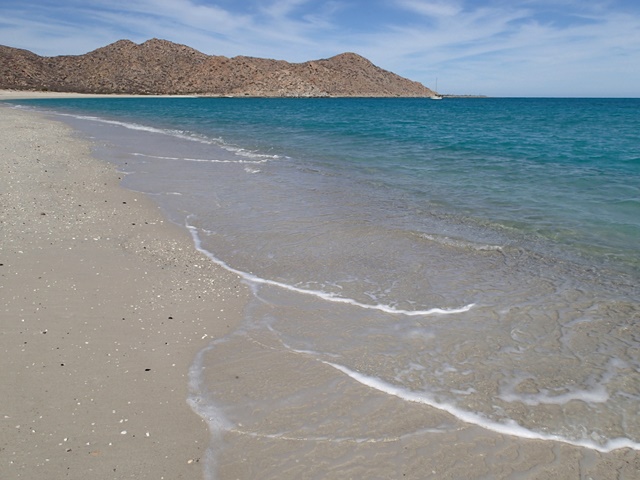 Bonanza beach. If you look closely, you can see our boat anchored at the end of the cape.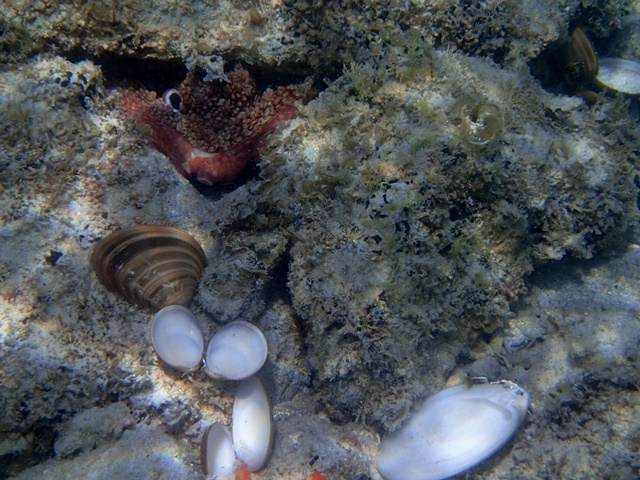 The octopus and his garden we found while snorkeling. Couldn't get the Beatles' song out of my head for awhile after that...
There was almost no wind during our passage, so we ended up motoring 42 of the 45 hours it took to make the crossing. We saw a few dolphins and sea lions, and at one point, we could see whales breaching full on out of the water on the southern horizon. However, they were so far away, we could just barely make out their dark silhouettes and the huge white splash that followed. We hope they were headed to Isla Isabel which is one of our planned stops on our way to Puerto Vallarta.
We arrived in Mazatlan Friday morning, tired from hand steering the last 2 days and only snatching 3 hour naps (we do 4 hour watches during passages). We decided to stay two nights at El Cid, a fancy resort with a marina. For the same price as the public dock in San Diego (which is not well maintained and very far away from everything), we were at a luxurious resort with 2 swimming pools and a bus stop right out front with frequent buses that went every place we wanted to go. We spent Friday rinsing gear, catching up on sleep and hanging out by the pool. By Saturday, we had the energy to go out and explore. We caught a bus to downtown and checked out the huge central market (looked like the Mercado Bravo in La Paz, but on steroids), the cathedral, and several other tourist sites in the old town. Next we caught a bus out to the end of the peninsula to where one of the tallest lighthouses in the world is. However, this is tallest in terms of elevation and not building size. We hiked to the top of the hill and enjoyed the spectacular views of Mazatlan from the top. Note to potential visitors though: try to avoid this hike if the wind is blowing from the east. The first half of the hike overlooks a very stinky wastewater treatment plant.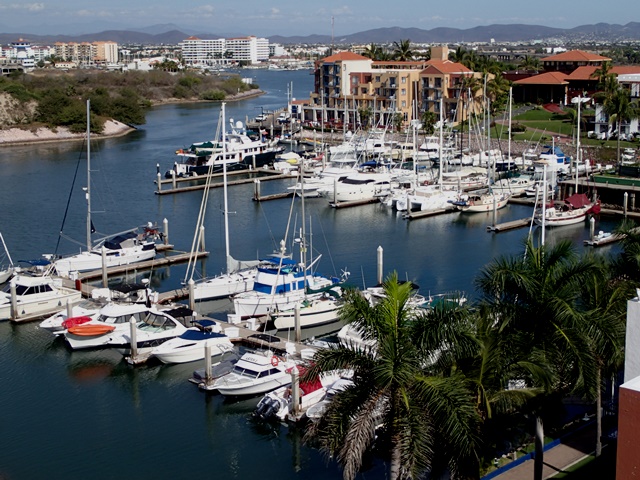 El Cid Marina. Our boat is on the dock closest to the front, with the dark green sail cover and dark green stripe.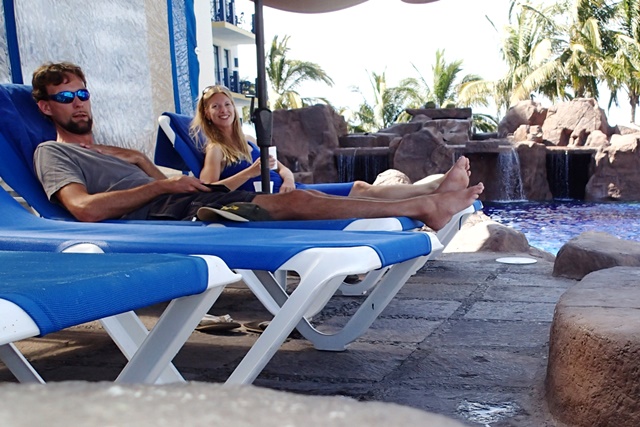 We spent most of Friday relaxing by the pool and napping.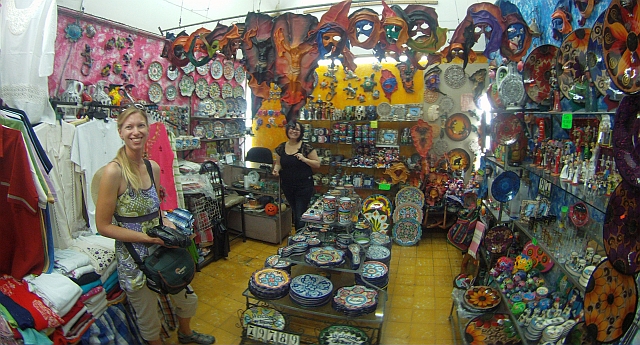 Checking out the beautiful pottery at the Central market.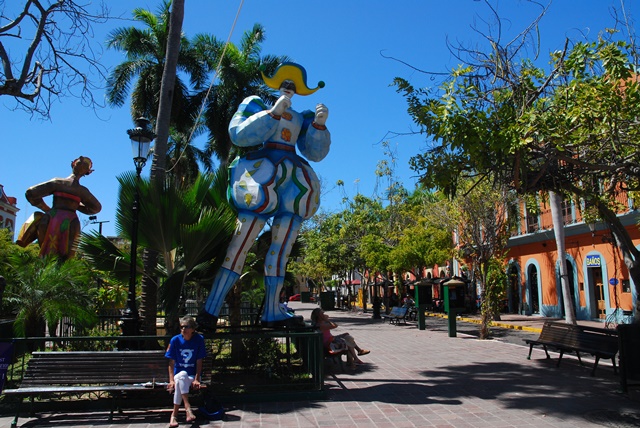 Plaza Machada in downtown Mazatlan. Many large, colorfully painted statues were left over from Carnaval the previous week.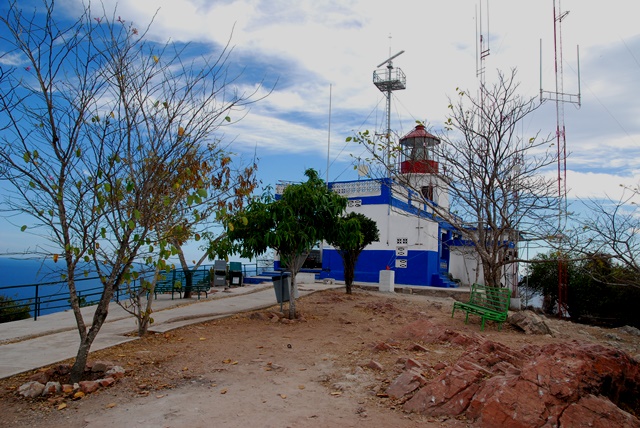 The Mazatlan lighthouse.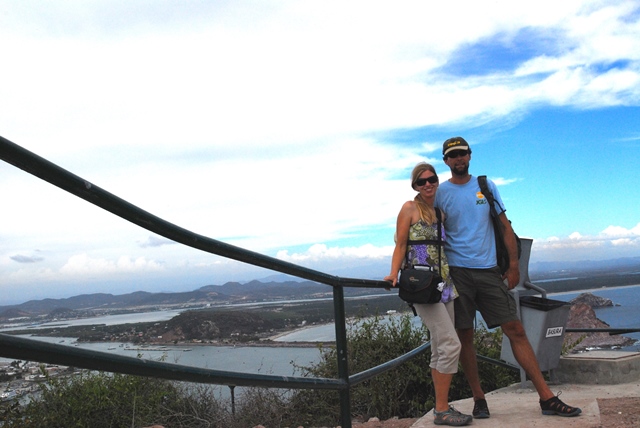 Taking a break at the lighthouse before heading back down.
After returning from town, we met up with some very old family friends, Gloria and her daughter Nicole, who now live in Mazatlan. We had a wonderful time catching up with them and enjoyed an excellent meal at a restaurant overlooking the beach. We wish we had more time here so we could hang out with them more. However, we are trying to get to Puerto Vallarta soon, so we need to keep moving.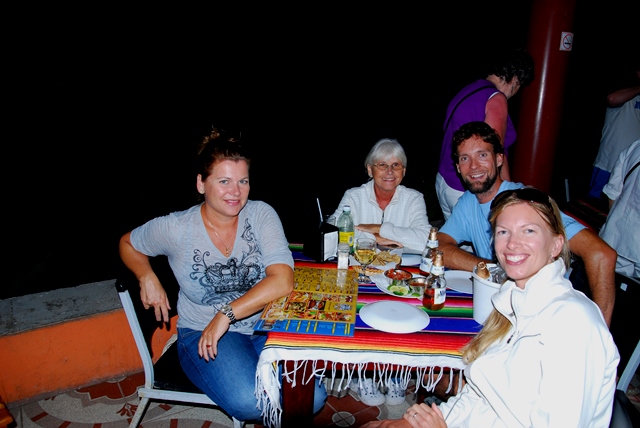 Enjoying a wonderful evening with family friends, Gloria and Nicole.
It is now Sunday evening, and we are in a rolly anchorage at Stone Island, just south of the entrance to the old harbor of Mazatlan. This is a good anchorage if the winds are from the north; however we now have 10 - 13 kt winds from the southwest (which is enough to kick up a bit of swell), where the anchorage is exposed. Our plan is to try and catch a few hours sleep here and then leave at midnight for the passage to Isla Isabel, 85 nm south.
Hits: 4293
RSS module greenpanther.org