December 15 - December 25th

Down under, it is summertime and in the 90s most days. We are attempting to get into the holiday spirit despite the heat.

This is our first time spending the holidays in the Southern Hemisphere, and it is a bit different than anything we've experience before. Since we just celebrated the summer solstice, the days are sunny and in the 80s to 90s. It is a bit at odds with the typical Christmasy foods and beverages we are used to enjoying during the holiday season. You don't really feel like a hot gluehwein, spiced cider, eggnog latte, etc. when the sun is hot enough to fry an egg on your boat deck. And Christmas baking is difficult when the boat is already over 90F without the oven on. It just doesn't feel like it should be Christmas when all you want to do is immerse yourself in an ice bath. Although last year when we spent Christmas in La Paz where it is also warm, it still cooled off enough in the evenings that you needed a jacket and could enjoy some warm beverages and heavier food. Not so here, we are lucky if it gets down to 70F at night! As a result of the hot weather, we've been having a hard time convincing ourselves it is the holiday season and we should be getting in the holiday spirit (we now understand the whole "Christmas in July" thing). :)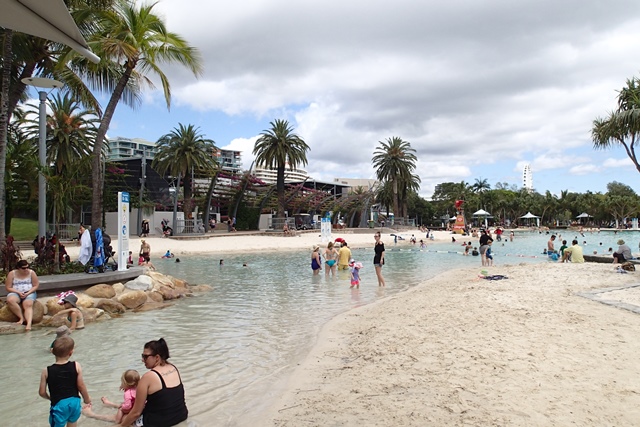 Going for a cool swim is about all you want to do in this heat.
This last week, I made it my mission to try and get us in the holiday spirit. I dug out our little plastic tree we got last year in La Paz, our Christmas music and Christmas movies. Then I went to Bunnings (Home Depot) and got a couple strings of Christmas lights to hang on the boat. Next I looked up the schedule of city planned events and made us attend a few. The first event was a Christmas parade through the main downtown mall area followed by a Christmas play. During a preshow for the parade, a singer came on stage to sing carols, including "Let it Snow" and "Winter Wonderland" as we all sat there sweating in the late afternoon sun. The parade and play were cute, but mostly geared to little kids. Though the parade did have live camels and reindeer (it's amazing those poor reindeer didn't get a heat stroke though). The parade route ended at the city hall, which instead of putting lights up, has a 3D Christmas-themed projection show running every 15 min. It reminded us of something we might see at Disneyland and had a "Frozen" theme. It seems even though it is summer here, people are still trying to convince themselves they have Northern Hemisphere seasons. A couple days later there was a screening of the Queensland Ballet's "Nutcracker" at a nearby park. I couldn't convince Chris to go (he has something against ballets), but luckily one of Chris's co-workers, Nancy, was happy to go with me. Before the show started we wandered around the Christmas markets, which were basically the same stalls as at the normal handicraft market (no Christmasy things for sale) but now decorated for Christmas. Still it was fun to look at everything. Following the Nutcracker (which was a really good production) Chris joined us in the park where they had Christmas fireworks by the big public pool. It was the first time we'd seen a Christmas themed firework show, and it was well done.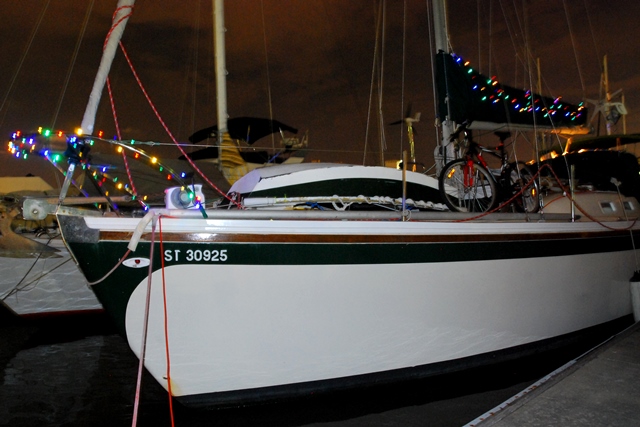 Our boat decorated with a couple strands of xmas lights.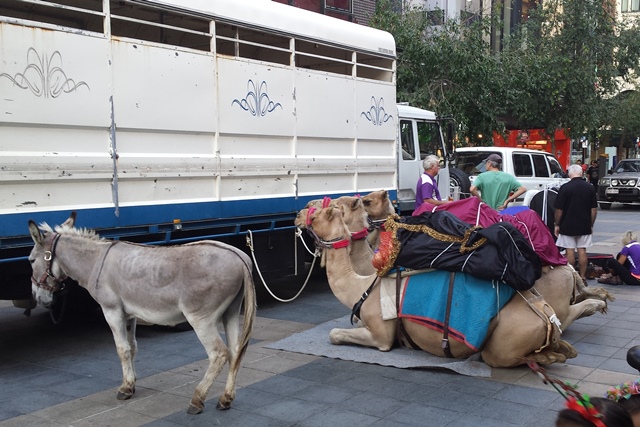 The camels and a donkey taking a rest before the parade.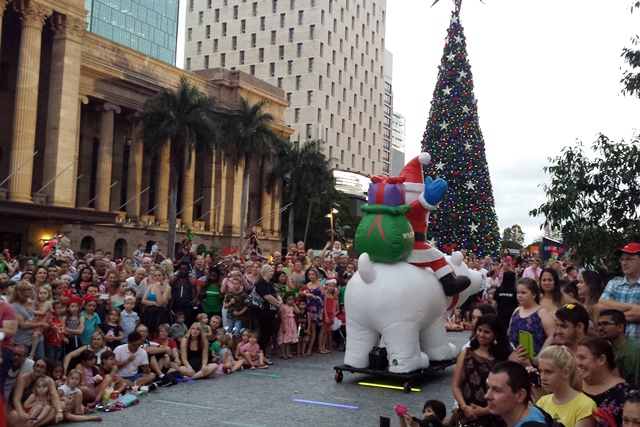 The Christmas parade was well attended by Brisbanites.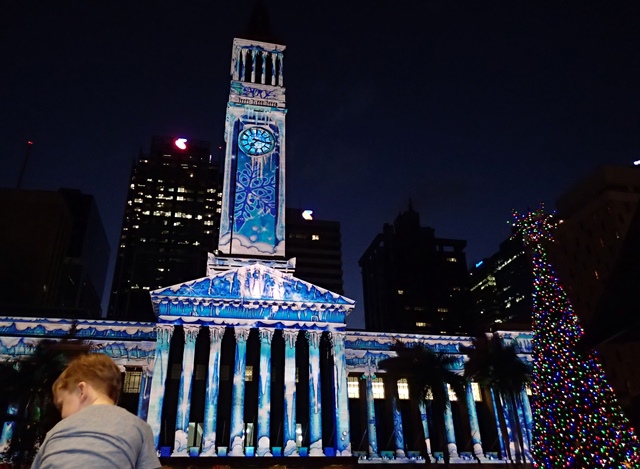 Once it got dark, they "froze" the city hall.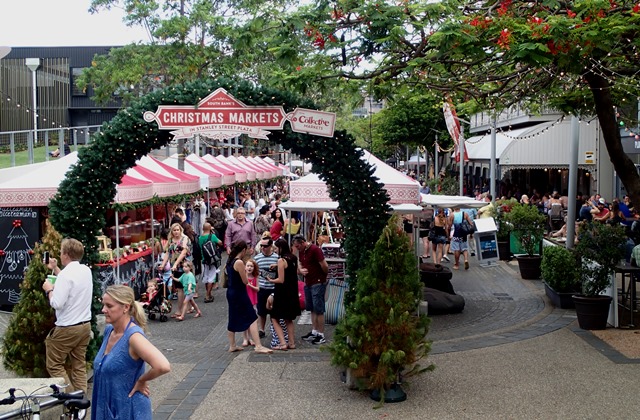 The city Christmas market.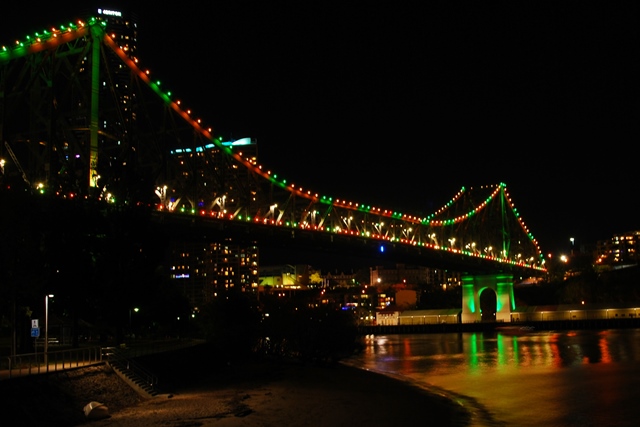 The best Christmas lights in town are on the Story Bridge next to our marina.
Here is a short glimpse into the Brisbane Christmas light show and the fireworks.
Over the last couple days, we had a bit of a cool down where it only got to the mid-80s, so I finally baked some Christmas cookies (bringing our boat back to its customary mid-90s). It still doesn't feel like the Christmas season that we're used to, but we're starting to feel a bit more holiday cheer now. And watching our traditional family Christmas movie "National Lampoon's Christmas Vacation" has also made it feel more like the holidays. :)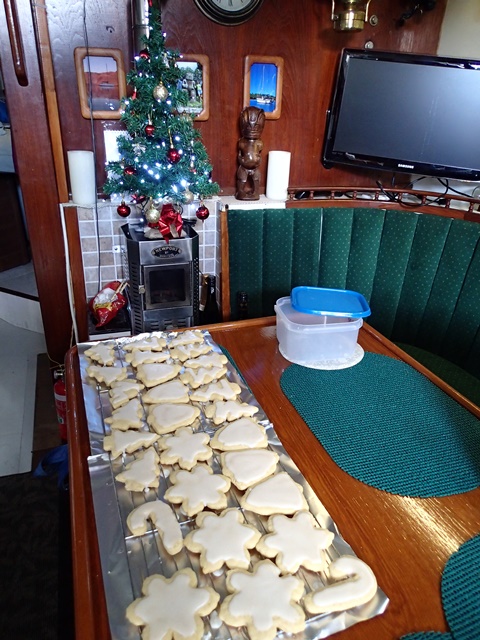 Baking Christmas cookies. And see our nice little boat-sized tree in the back. :)
We hope everyone has a wonderful holiday! We are taking off camping for the next week, so will have a fun blog about our trip when we return.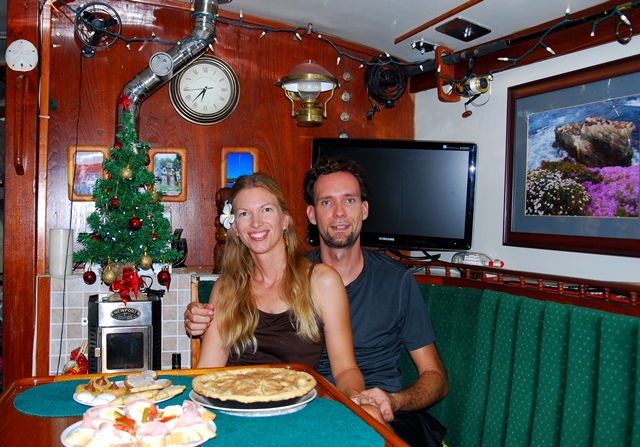 Happy holidays everyone!
Hits: 4142
RSS module greenpanther.org