Hiva Oa - the friendly people island

Staying almost a week on Hiva Oa allowed us to explore the island and to get to know the friendly locals.
Being in the Marquesas for a few days now, we can say that these are the friendliest people we have met on our journey so far. Everybody always seems to be in a good and friendly mood around here and people greet you wherever you go. When we first left the boat to walk from the harbor to the village center of Atuona, we were running late and I finally decided to wave my hand when the next pickup truck came by, and the car stopped! The driver was a skinny guy about our age and he signaled us to jump into the car, so we did. Turns out his name was Josef, he lives on Hiva Oa and also works as a local guide so he spoke some English. He didn't try to sell us anything and was just happy to give us a ride to the village center, and to chat along the way. Once we arrived he explained how to find the Gendarmerie, since that's where we needed to go, smiled and went on his way. Since then we learned that hitchhiking is very common around here, and most cruisers never walk the entire 30 min from the harbor to the village, because at some point a car will stop and pick you up.
Anyway back to our first day. Walking through the village, most people greeted us in Marquesan, not in French, so we asked the lady at the grocery store how to say hello in Marquesan and she smiled and gave us a quick rundown off the most important phrases. Unfortunately we didn't write it down and only remember "hello . . . . . koha (bonjour)" - we have to ask the lady again. :-) The Gendarmerie couldn't do much for us, because the agent from Tahiti hadn't send the paperwork yet, but they spoke English and when I asked about other towns on the island, he said come on in, flipped up the counter and led us to his office where he explained the location of the different villages using a big map on the wall - a very friendly policeman.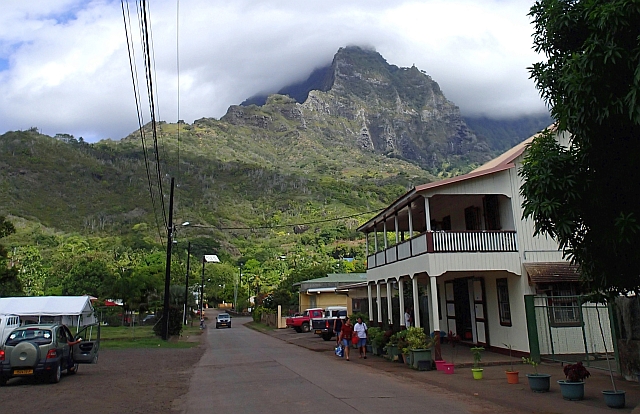 Later we got to know Simone who invited us to her house where her husband Jean-Marie, a carver and sculptor, live. We were curious and stopped by not sure what to expect. We were greeted with some lemonade, pompelmousse (grapefruit), dried fish and baguette and Simone and Jean-Marie chatted about all the cruisers they have met over the years. Simone's English is quite okay. She learned it from two Mormons who visited the island a while ago and offered free English lessons, presumably to attract people who could possibly be converted. She didn't become Mormon but the English stuck. We also learned that their kids, like a lot of folks of the younger generation, went to Papeete, the capitol of French Polynesia, since there are more education and job opportunities. Finally Jean-Marie showed us one of the ukuleles he made and started playing some polynesian songs. Simone joined in and sang along with a beautiful voice - what a treat!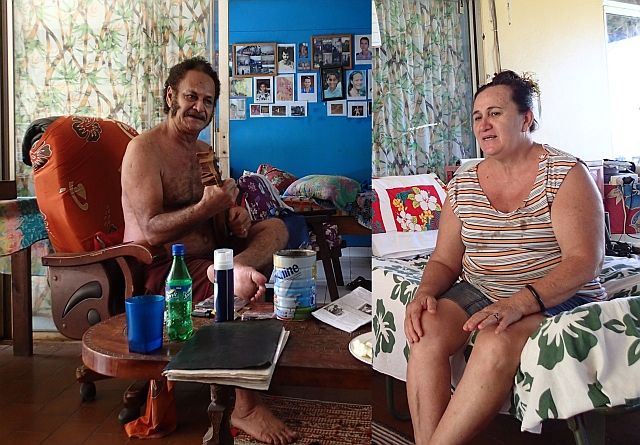 Simone and Jean-Marie playing Ukulele and singing in their house.
Jean-Marie is grunting during the song since it's about a pig that refuses to die, but eventually succumbs and feets the
starving islanders.
Of course we also met several other cruisers and made new friends. Since we arrived here later than most of the boats sailing from Mexico, we are encountering a different crowd from the Americans and Canadians. Most cruisers who arrive now are from Europe and Australia and came from the Caribbean via the Panama canal. It is fun to hang out with the Swiss and Germans and yesterday we even had another boat from Austria come into the anchorage. The craziest story comes from a Norwegian sloop, where four guys told us they had a chicken onboard which they bought in Panama with the intention to get an egg once in a while. Seems they got the wrong kind since she never laid an egg, but she became part of the crew. She was a companion during their night watches, cuddled under their armpits during cooler nights and fought for the right to steal whatever she wanted from the galley table. This arrangement worked fine, until the boys were fed up with cleaning the cockpit everyday of chicken poop and well they also got very hungry for fresh meat after several weeks at sea. As one of the sailors put it "We really miss her, but she tasted sooooo good".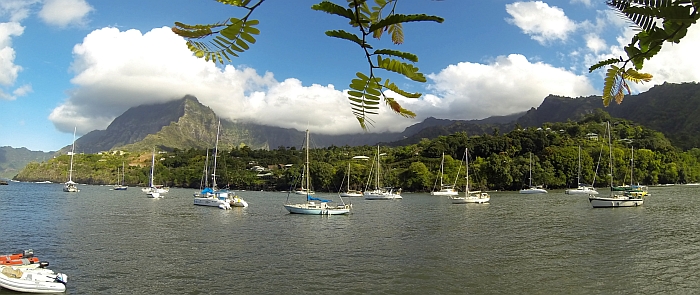 We will hang out a few more days here, doing some boat repairs, sightseeing, laundry, hiking and joining the local festivities. Green Panther is the boat in the foreground all the way to the right, with the fenders hanging down to protect our boat from our sometimes aggressive dinghy Lil' Panther :-).
-Chris
Hits: 4684
RSS module greenpanther.org