.

Week of 06/05/14 - 06/11/14

We've had a lot of fun exploring the island over the last week! Tikis, laundry, boatwork and fruits.
We've been in Hiva Oa a little over a week now. We are still here because we were waiting on some final paperwork from Tahiti so we can purchase diesel duty-free. The savings is about $0.75 per liter bringing the price down to $1.15, so it is worth it to obtain the papers. Although we cannot swim in our current anchorage and the anchorage is rather rolly from the swell coming in, we have really enjoyed our stay on Hiva Oa and will miss it when we leave. We've had a good balance of fun excursions and boat work and as Chris mentioned in the last blog, the people are incredibly friendly.
For the fun stuff, we toured the island and the tikis, hung out at a local festival in town, hiked halfway up a nearby mountain, and went on many fruit scavenging walks. We got lucky with the island tour since we went with five other cruisers and could split the cost by seven, making it affordable. We had a great tour guide, John, who besides taking us to see the tikis around the island, also stopped at some great fruit scavenging spots. We gathered lots of mangos, pompelmousse (sweet grapefruits), pomme cater (john translated this as "ugly apple" – it has a texture similar to a pear but a very different flavor), and some guava. For the tiki tour, we drove over the mountains along the bumpy jeep track (the only road across the island) to the other side and the village of Puamau. This is the location of a large ceremonial site with several tikis, including Takaii, the largest tiki in the Marquesas and some guidebooks say in the world. We also stopped at the laughing tiki, who lives in the mountains. It was a great day, and fun to get to know the other cruisers better. And the next morning, our tour guide showed up with large stalks of bananas for each of our boats! He said he has lots of banana trees on his property and since we didn't get any on our trip he brought us some.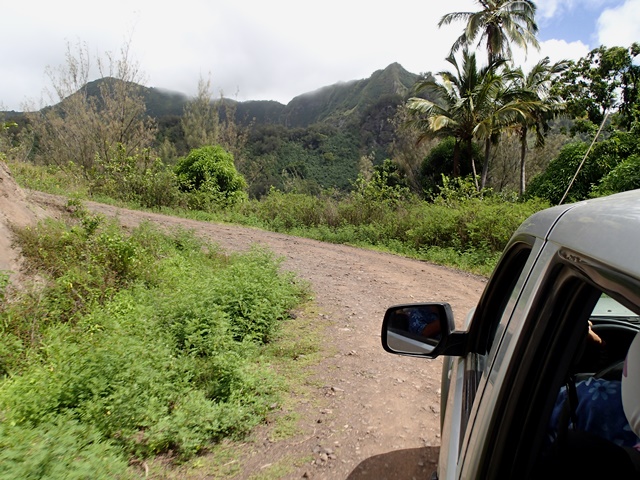 Our 4WD adventure around the island.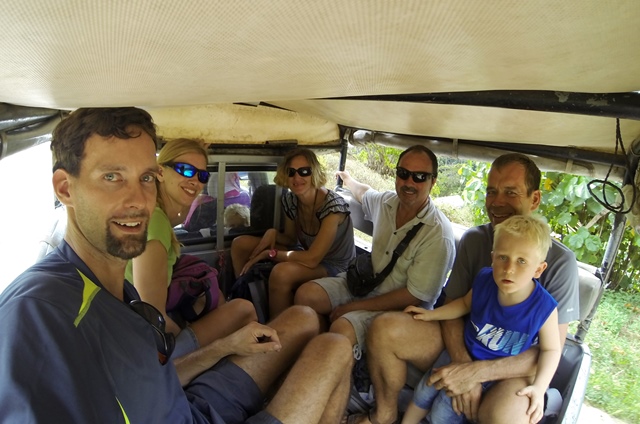 Hanging out in the back of the pickup truck.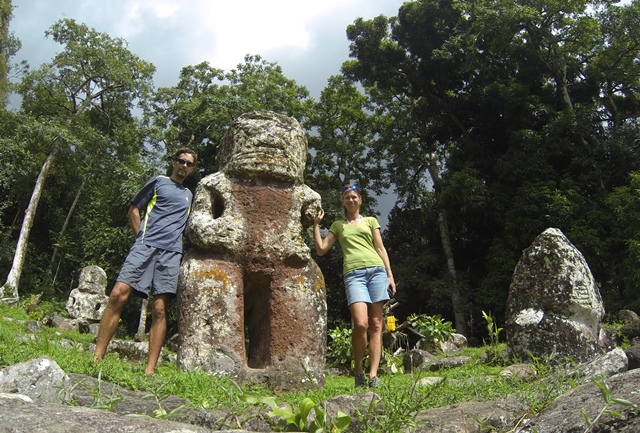 Takaii, a Marquesan chief and the largest tiki in the Marquesas at about 8 ft. Most tikis are between 3ft - 4ft.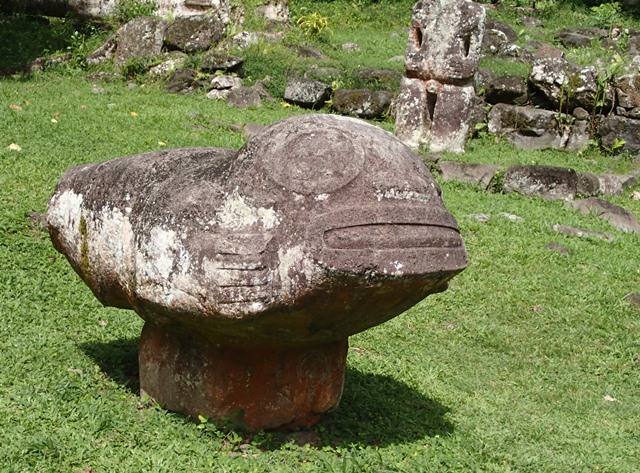 A unique tiki depicting a pregnant woman about to give birth (yes they gave birth on their stomachs!).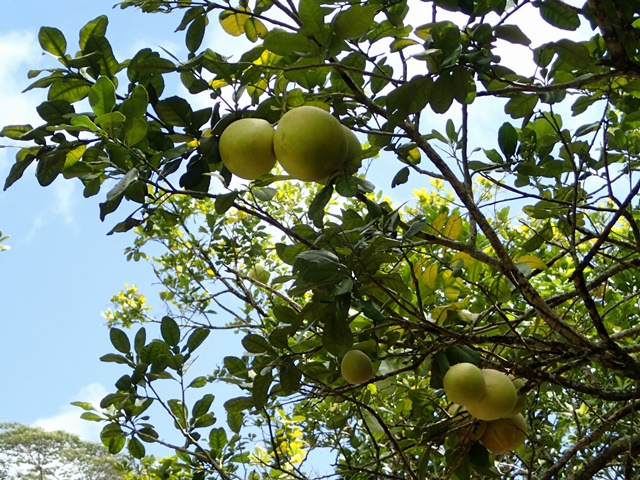 A large pompelmousse tree we came across during the tour from which we harvested several pompelmousse.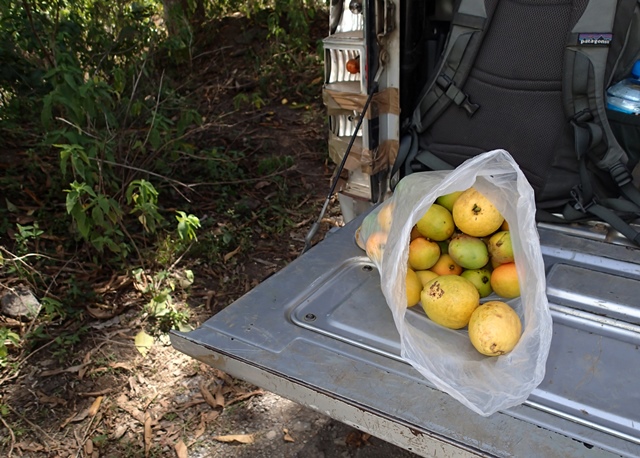 A bag of mangos and a couple guava we collected from one fruit scavenging stop.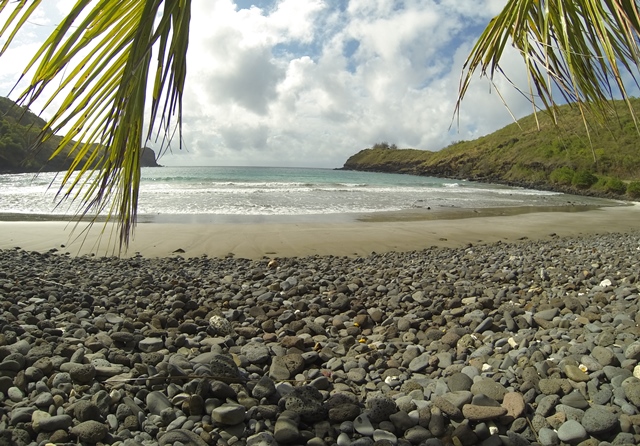 Our lunch stop at a bay near Puamau.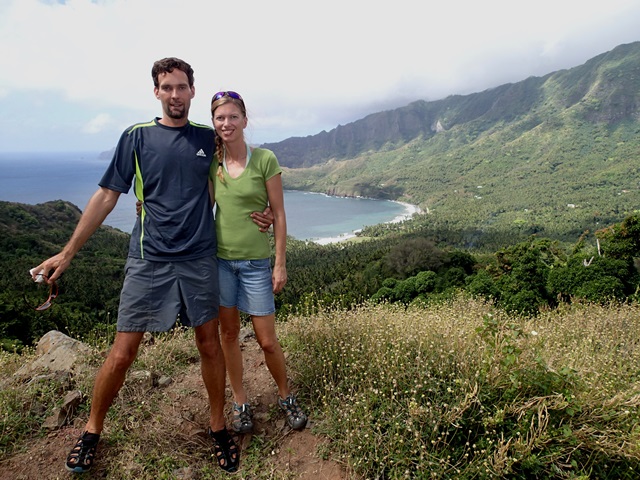 Nice overlook of another bay.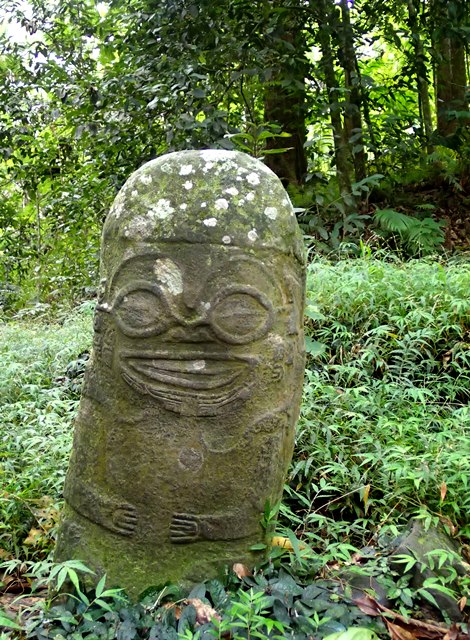 My favorite tiki, the laughing tiki. This is supposed to be the tiki for fishermen, and often Marquesans come here to ask for a good catch before going out in their boats.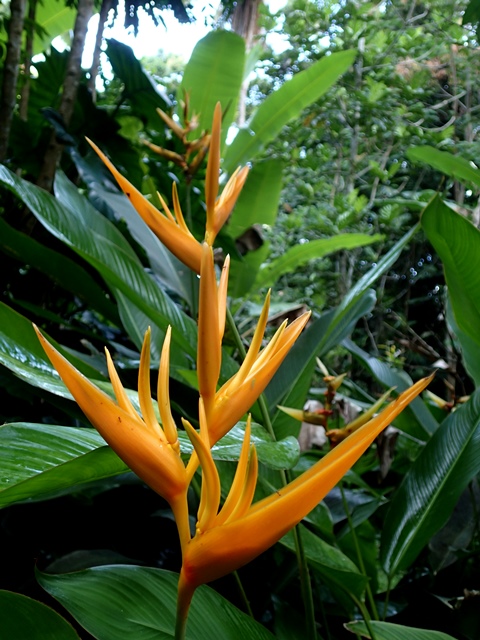 Lovely flowers in the jungle near the laughing tiki.
Another day we went to a local festival in town in a large open space near the village center. A group of musicians were playing Polynesian music on a stage, kids were playing soccer in the mud, and the adults were sitting around eating under large tents. The music was great; I could listen to Polynesian music all day. A large grill was also going and they were selling large plates of grilled chicken and pork with French fries for about $10/plate – and one plate was plenty for two people. This is very cheap for Polynesia because at a restaurant most plates start at $15-$20. The food was delicious – and it has been months since we had French fries so that was a treat! After eating we walked to the street to watch the main event of the festival – a car pulling competition. It was quite entertaining, where single men and later teams of four competed to see who could pull an old SUV the fastest down the road.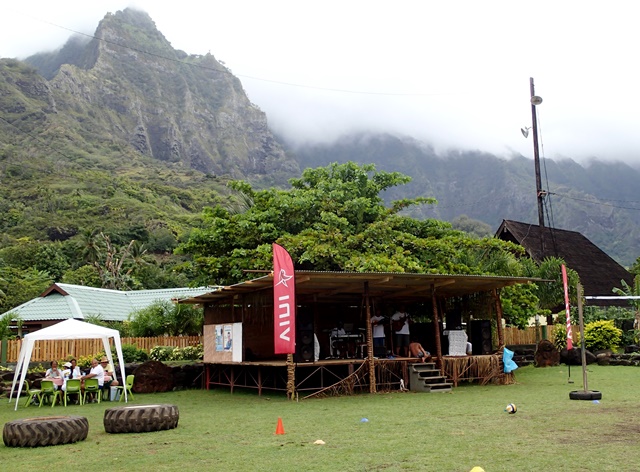 The musicians playing Polynesian music.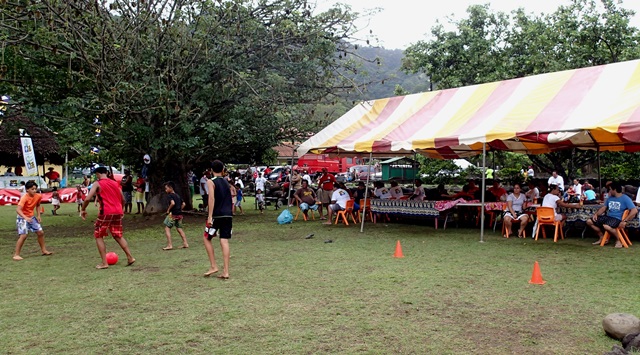 Although a bit rainy, it was still a lot of fun to hang out with everyone.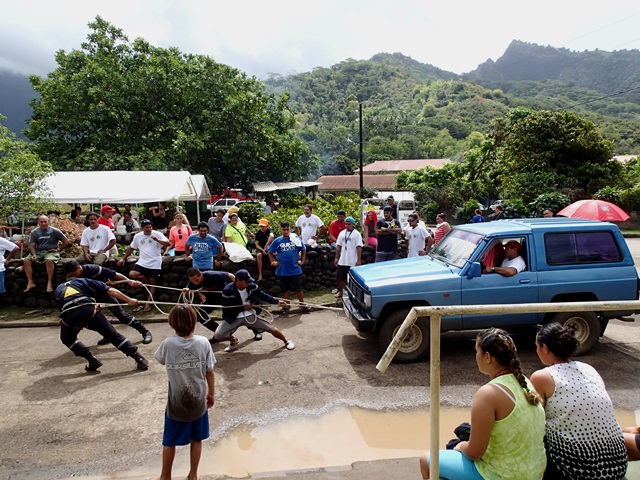 The car-pulling competition.
We also did a fairly strenuous hike halfway up the mountain that overlooks our anchorage. It was neat because the first part was in a mango forest (unfortunately these mango trees had already shed all their fruit), while the latter part of the hike was out in the open along a hillside with amazing views. In the forest there were several old maraes as well, which are stone platforms the early Marquesans used for ceremonial purposes. We were exhausted by the time we made it back to our boat in the evening, but it sure felt good to have sore legs from hiking again! I was getting soft from our long time at sea with little exercise.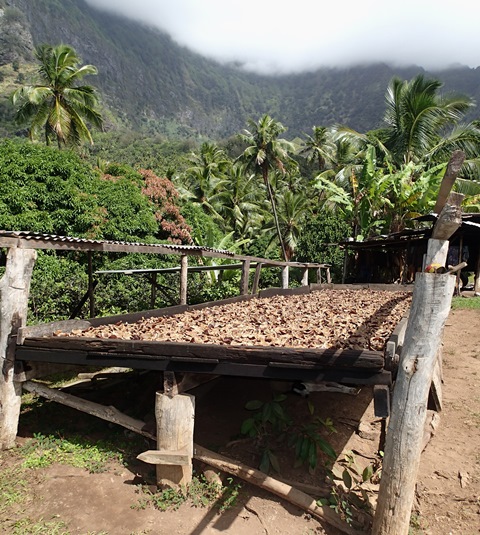 A coconut drying table we passed on our way up to the trail. Copra (dried coconut) is a major export and you see these racks all over the place. Although we have also seen many birds picking at the coconut as well on these racks, so hopefully the coconut is cleaned of the guano somehow before it is sold!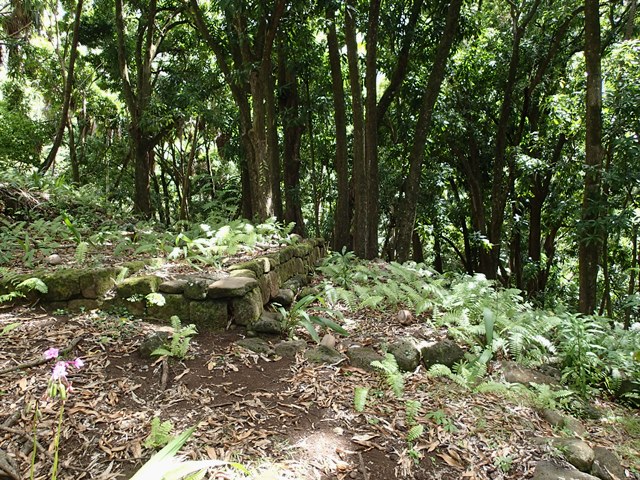 Part of a stone marae in the forest.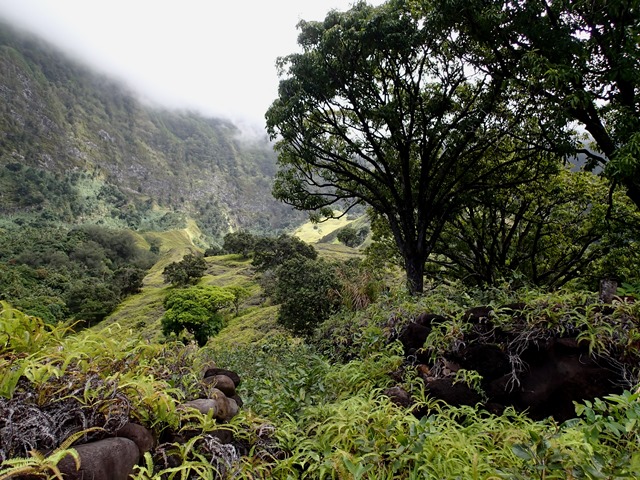 A view up the hillside we were hiking. It is so lush and green here - just absolutely gorgeous!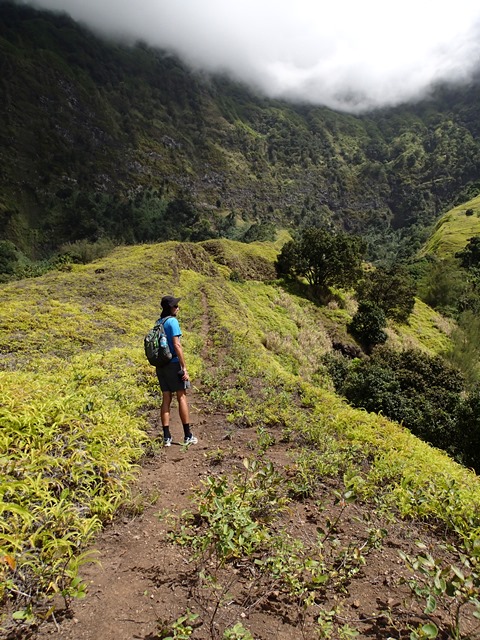 Chris hiking up the ridge.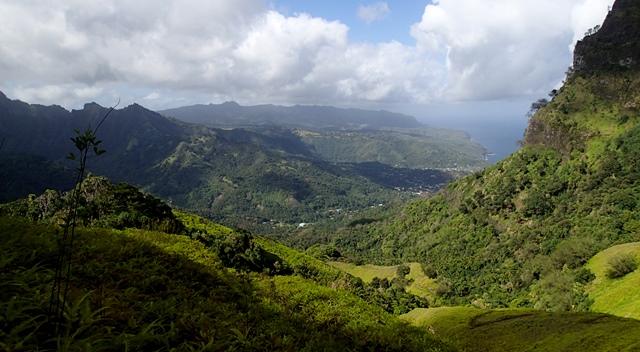 The view from our high point. You can see the town far below.
The rest of our time has been spent doing the other part of cruising – boat work in beautiful places. After 41.5 days at sea, we had some wear and tear on our boat. The worst is that our wind generator, which Chris so painstakingly installed in La Paz with the help of some of our dock neighbors, started giving off an electrical current through all the metal parts it was in contact with, which included our stern pulpit, stanchions and lifelines. This loose current caused severe galvanic corrosion in all said parts, including a large hole in our stainless steel bow pulpit. The corrosion also caused streams of orange rust to color our deck that we spent the last 2+ years re-doing, along with many leaks into our cabin through the bolts that fasten the stanchions to our deck. We spent a lot of time scrubbing our boat, trying to get as much rust off as possible, and removing and re-sealing a couple of the worst leaking stanchions. We will need to eventually remove and re-seal all of our stanchions, but we don't want to be working all the time, so we will do a couple stanchions at each stop along with the fun stuff. Of course the main issue is to fix the wind generator. For a short term fix, Chris short-circuited the wind generator so it shouldn't work anymore. Once we get to Tahiti and Papeete, we will probably go into a marina for a couple days so we can remove the wind generator and see what is causing the problem (our guess is the wires chafed through).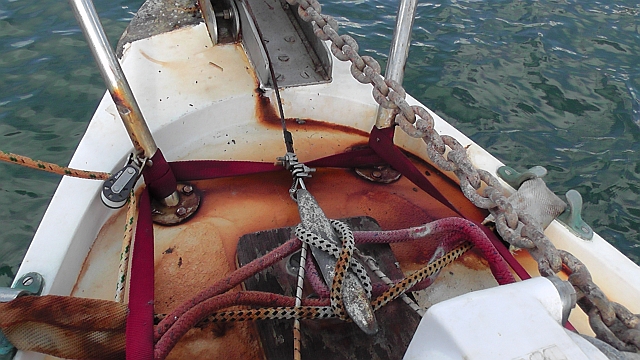 Our poor bow pulpit and deck.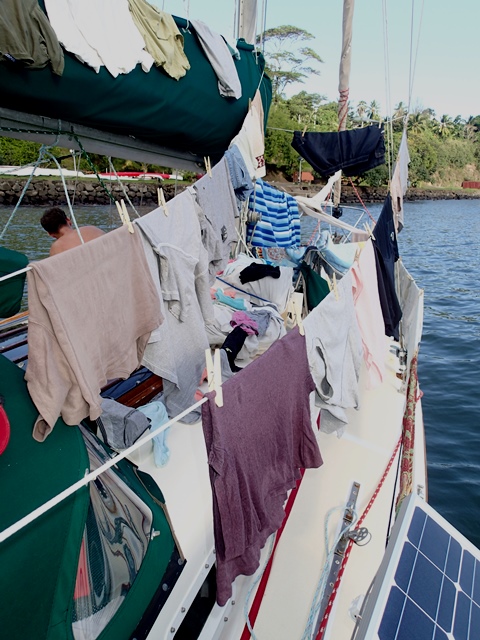 Laundry day on Green Panther.
We're not sure how soon we'll find internet again once we leave here (even here the internet is hit and miss and only works some of the time), but worst case, we should be able to post in a week or so when we reach the island of Nuku Hiva! Our next stop will be an island 10 miles from here, called Tahuata, which is supposed to have a lovely bay where you can swim and snorkel.
Hits: 5709
RSS module greenpanther.org