Week of 11/24/13 - 11/30/13

It is Thanksgiving week and we definitely have a lot to be thankful for!
After four years of dreaming and working on our sailboat, we finally made the leap, quit our jobs, got rid of our stuff, and are out cruising. We have been out 1 month now, and although it has taken some adjustment and can be quite exhausting at times, it has also been a great adventure. Among many other things, we are so thankful for all of our wonderful friends and family for supporting us in this venture and helping out so much.
This week we took a vacation from sailing and spent the week in Cabo San Lucas with my parents. They flew down to spend Thanksgiving week with us. We were thoroughly spoiled with having the boat in a marina all week, eating lots of great food, enjoying tropical drinks, and hanging out in my parent's hotel pool. I think we have put back on all the weight we lost sailing down here.:)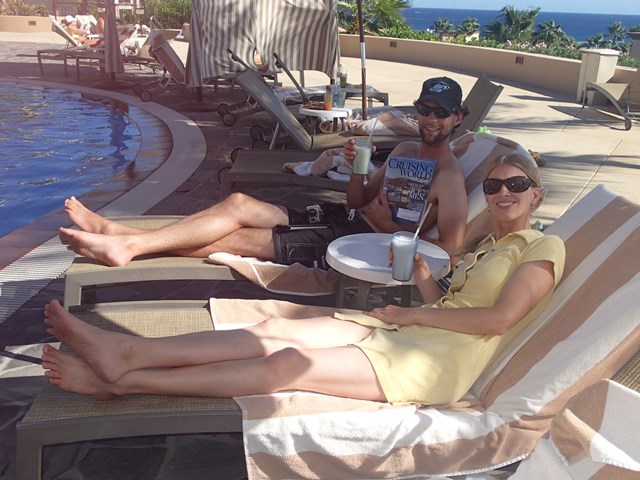 Enjoying pina coladas by the pool.
The actual downtown waterfront (marina) area of Cabo San Lucas is pretty crazy. It is all very loud with nightclubs, restaurants, hotels, and loads of really drunk Americans stumbling around. Cabo is not really the best place to stop if you are a cruiser unless you are really looking to party; it is loud and expensive. Most of the other cruisers we know continued south to stay in San Jose del Cabo, a much quieter location. We have enjoyed our time here because we have been lucky enough to spend our days relaxing at my parent's hotel or exploring the surrounding area with them. It's just the nights on the boat that have been interesting with loud club music playing until 3am each morning (I learned any and every song can be made into club music, including Neil Diamond's "Sweet Caroline").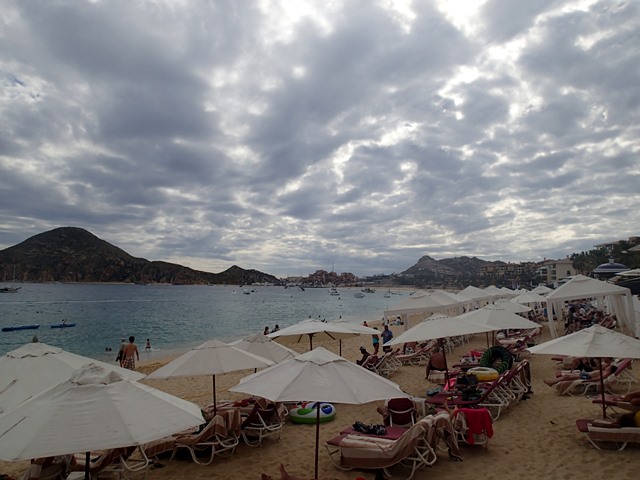 The beach at Cabo San Lucas. Not the place to go if you are looking for peace and quiet.:)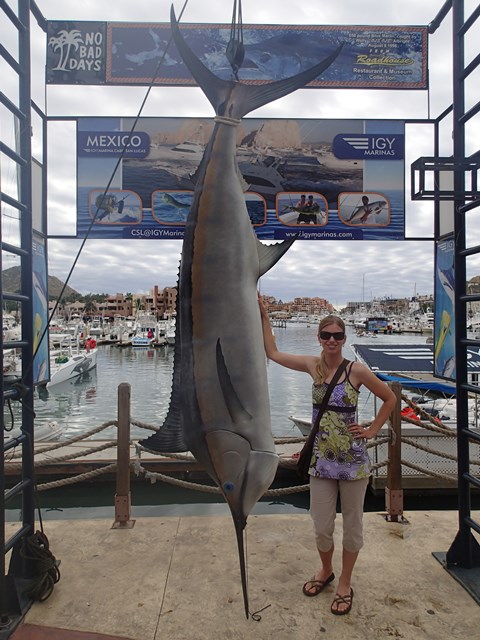 Swordfish that are bigger than me live here!
It was a lot of fun getting to spend the week with my parents. Besides hanging out together by their pool and drinking lots of pina coladas, we spent a day on our boat touring the Cabo arch and going for a swim in the ocean (77°F!), took day trips to San Jose del Cabo and La Paz, and went to various stores including Costco and Mega to re-supply our boat. Yes, they have a Costco here (and a Walmart, Sam's Club and Home Depot). Sometimes it really doesn't feel like we are in a foreign country. It was great to be able to purchase things we were running out of and to have a car to transport it in. Thank you mom and dad for driving us around all week!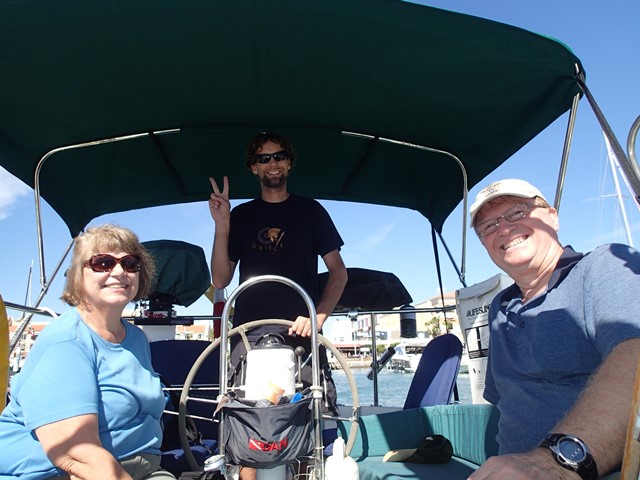 Hanging out on Green Panther with my parents.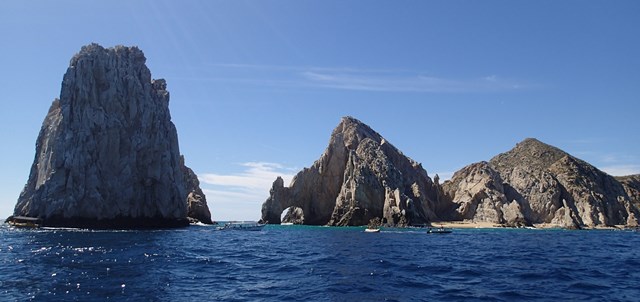 The arch and cape at Cabo San Lucas.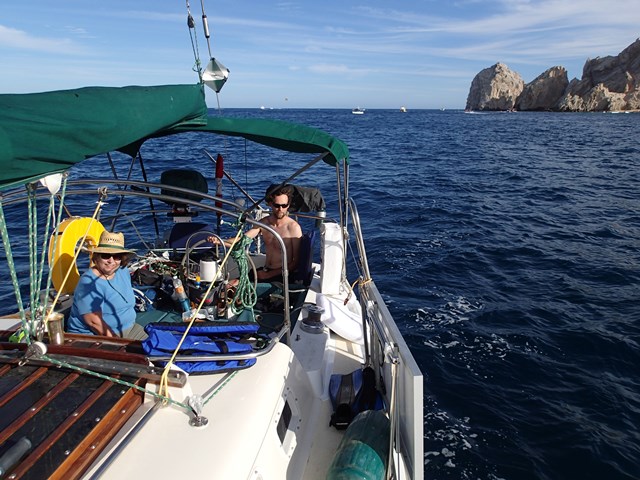 Touring the Cape on Green Panther.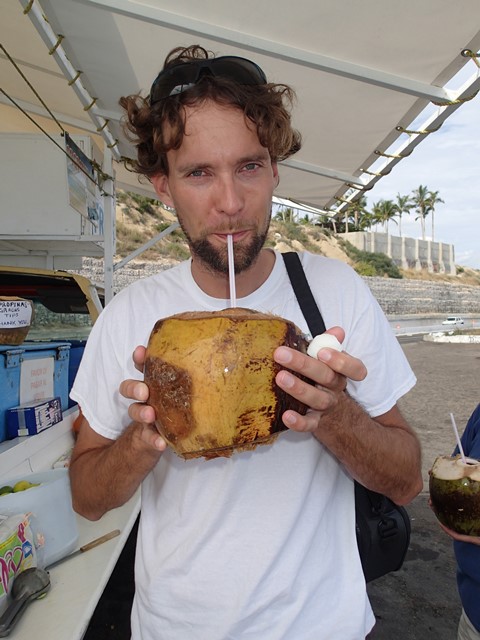 Enkoying a fresh coconut at a coconut stand along the road. The best part: after drinking the coconut water, they cut out the coconut meat and bag it up for you!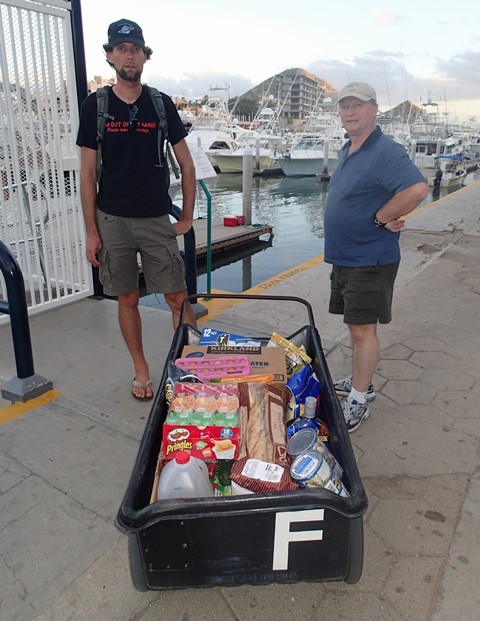 Hauling our Costco loot to the boat.
On Friday night, our friends Dean and Mala, who used to be our boat neighbors in Emery Cove Marina a couple years ago, arrived in Cabo. We had planned to do the Baja Ha Ha rally together and were sad we missed sailing to Cabo with them. Mala and Dean sailed their boat Seaquester down with the rally. They returned home briefly after the rally, but arrived back in Cabo Friday. We were so happy our time here overlapped with them; it was great to catch up and we hope to see them again soon in La Paz!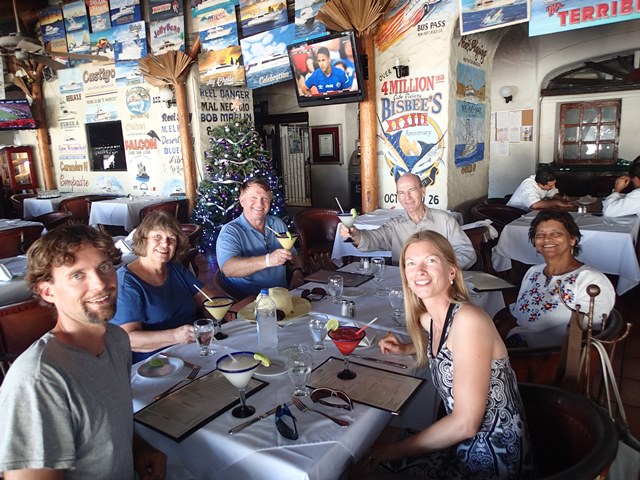 Enjoying margaritas with Dean. Mala and my parents.
Tomorrow (Sunday) my parents head back home and we will head out early as well on our way to La Paz. We will take about 3-4 days to get there from here. Our goal is to avoid overnight passages on this trip and just do day sails. We would also like to stop near a marine reserve along the way called Los Frailes and do some snorkeling if the weather cooperates. It should be a fun trip! We'll post another update next week when we get to La Paz.
Hits: 7309
RSS module greenpanther.org